I am excited to actually be posting to my own blog. I have always said I would never do it as it seemed like "work" to me. But I have been swayed by so many of my friends who have wonderful blogs that I enjoy reading and seeing what they have uploaded for the day. I decided it would be fun for me as I enjoy telling stories along with my uploads on Splitcoaststampers. I don't have a huge plan so far just that I knew if I didn't get started I never would.
Today I am uploading cards that I created for my Technique Club that meets once a month. I have a group pf twelve ladies that come and we have such a great time together. It really keeps me on my toes as most of these ladies have been stamping with me for a few years and are very accomplished. Most of them are also members on SCS.
The first card has a frosted window. I used regular shipping tape on the frame and put a little iridescent ice over the sticky tape area to create the frost. I created the frame with my square punch making two punches in a row. I created the frame the exact same size by holding the card stock over the first created whole and punching using it as a guide. The inside is a simple little snowman scene painted with re-inkers and some white embossing for snow on the ground. I created the little tag using my Scalloped and circle punches and layered them along with a grosgrain knot.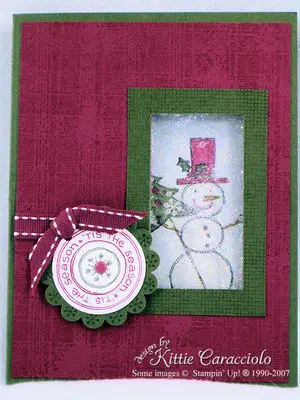 Stamps: Punch Pals, Flannel Plaid
Paper: Pomegranate, Artichoke, Whisper White
Ink: Pomegranate, Artichoke, Craft White
Accessories: Scalloped and Circle Punches, Grosgrain, Brad, Tape, Iridescent Ice, Square Punch
The next is a picture of three cards done with the exact same image and layout but with different color paper and inks. I stamped the tree with a green and filled in the tree by brushing a small brush directly over the ink pad and then brushing over the tree branches, I sponged a yellow over each tree and then stamped snowflakes with white craft ink and then sponged the craft ink on the ground and embossed with white embossing powder. I love that I could make three fast cards made to all look different just by changing ink and paper color.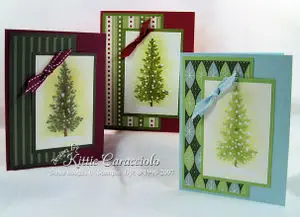 Stamps: Lovely as a Tree, Itty Bitty Background, Canvas
Paper: Watercolor, Real Red, Olive, Dashing DP, Sky Blue, Celery, Wintergreen DP, Pomegranate, Artichoke, Holiday Harmony DP
Accessories: White Embossing Powder, Grosgrain
I hope you will visit often and I hope to bring interesting techniques and fun stories.