Happy New Year Everyone!!!!
The Color Challenge on Splitcoaststampers today is a fun one. The colors to use are red, teal and celery. Teal is not a color I use often as it is a bit too dark for my taste. But for this challenge I decided to make a couple of "elephants in love" with it and combining their hearts together. How many of you remember the day when it was the fad for a boy to give his best girl a little silver or gold heart on a chain that was split down the middle? He kept half and gave her the other. I guess I am aging myself. I don't think the kids now a days are quite that sentimental.
I stamped the first elephant, masked it and stamped the second. I painted with a watercolor brush and reinker. I used a dauber to add celery to the lower ground area and decided I needed a little body of water in the scene to add one more touch of teal. I masked off the top elephant and then use a Post-It to mask off the top side of the water. I filled in the little area with a dauber and removed the mask. I used another dauber to complete the grassy area on the other side of the water. I used a mini tipped sponge applicator to fill in texture in the grass area and then sketched in little flower and grass sprigs with an artichoke marker. I dabbed on little red flowers with a mini tipped applicator and sponged the grass and sky area with hello. I did a little free hand heart with red cardstock and cut it in half and added little white dots to make the heart separation show better. I punched a hole in the trunks of both elephants and stuck the little piece of gingham through so the little heart could appear to hang from both. I know….I'm a sap! I created a red dotted background layer with my red marker on a scrap piece of watercolor paper. I never am happy layering watercolor paper over pure white cardstock and many times create a background layer out of watercolor paper so I will have a perfect match. I did not any background image to the base layers as I liked the perfectly plain look of the red and teal.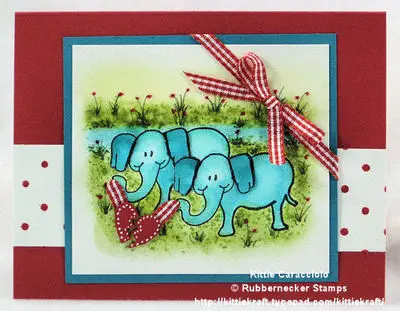 Stamps: Rubbernecker-Baby Stuffed Elephant
Paper: Red, Teal, Watercolor
Ink: Black Brilliance, Adirondack Dye Inks and Reinkers
Accessories: Gingham, Markers, Brushes, Daubers, Mini Tipped Applicator