Today is a proud day for me!!!!! Kittie Kits "Cause a Scene" is being released exclusively on Rubbernecker Stamps . I am so excited to present two original landscaping image sets that will allow others to create their own wonderful "Scene Cards".
I started having fun creating and uploading my own scene cards on Splitcoaststampers a couple of years ago. I had never drawn anything in my life with the exception of a few stick men, but found I wanted to add a tree or fence to a stamped focal image and create a little scene. There are lots of trees and fence images on the market but not ones that may work perfectly with the focal image I was using at the time. So out of necessity I drew my own. Little did I know that all my experimenting would turn into a "scene" technique referred to on Splitcoaststampers as "Kittie Cards". I was totally thrilled and shocked in March 2007 when Beth, Showmestamper uploaded the Monday "Technique Lover's Challenge" to create Kittie Cards. WooHoo! I knew I could play in that challenge. The response that day was overwhelming to me. As time passed I started getting requests from SCS members asking me for instructions on creating scene cards. They wanted to know everything from the watercoloring technique to how to sketch in an image. I so loved helping others learn and to enjoy the feeling of accomplishment from learning and creating something new. My own personal sense of accomplishment has been such a joy and pleasure to me.
It was exactly one year ago this very week that Sherry (BadSherry) and Jeanne S came to visit me while in Orlando to attend the Orlando Stamp Fest with Kim and MFTstamps. As we sat on my back porch visiting, the girls suggested I should try my hand at doing a set of landscaping images and possibly tutorials to accompany them. They thought SCSmembers would love to have them. I have to admit that I would not have thought of doing this on my own, and thanks to Sherry and Jeanne a dream was born. It is because of their ongoing encouragement that I decided to try. I love them both so very much for it.
Dave Miller of Rubbernecker Stamps graciously accepted the task of exclusively producing my images. Kittie Kits originals are landscaping images created in various sizes to work with many sizes of focal images. Dave and his son, Rob worked tirelessly with me not only to create Kittie Kits original sets but to also resize many of my favorite "Rubbernecker images" into accompanying "Kittie Kits" sets. You can go to town and "Cause a Scene". Keep an eye out on Rubbernecker Stamps because soon I will start uploading YouTube step by step tutorials and the techniques involved in watercoloring, masking, and sponging.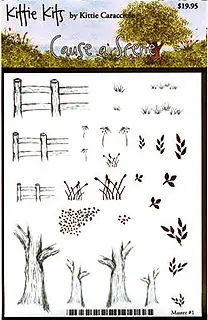 Kittie Kits "Cause a Scene" Outdoor Landscape Master
In My Garden
On the Ranch
The Moose is Loose



Kittie Kits "Cause a Scene" Beach Master
Day at the Beach
Fun in the Sun
What's for Lunch


I've uploaded several cards this week using lots of my new images. No one really noticed as they looked just the all the cards I've produced over the last couple of years. That gave me a chuckle. I was dropping hints but not many were noticing. I created this card for my release article as it is truly represents what Kittie Kits is all about to me. I love outdoor garden scenes and the garden cart, pots and watering cans are perfect focal images to use my trees and fence. Did you happen to notice I drew out my own mini fern image? All of you who missed the opportunity to get the SU Watercolor Mini Fern image before the set retired can now have mine to work with. You will also notice there are lots of other little sprigs, weeds, leaves and flowers that work beautifully into scenes to create lush background. I am in heaven!!!!!……..my own "Kittie Kit" heaven. If you dream….you can achieve!!!!!!!!!!!!!!!!!!!!!!!!!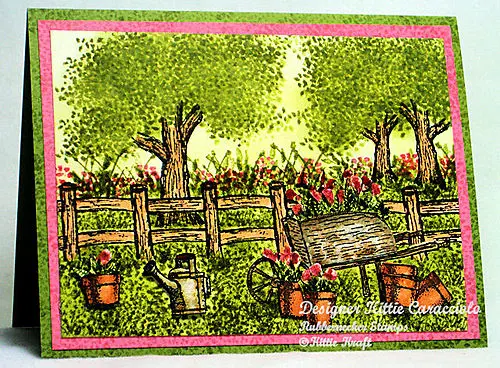 Stamps: Kittie Kits- Cause a Scene, Rubbernecker In My Garden
Paper: Olive, Rose, Watercolor
Ink: Black Versafine, Rose, Red, Olive, Rust, Mustard, Yellow, Carmel
Accessories: Watercolor Brushes, Sponges, Daubers, Glue Dots, Mounting Tape, Red, Rose and Olive Markers
Rubbernecker Bucks winner is comment number 17: Congratulations to Morrisa Sweeney