I enjoy creating snow scenes but I know you already know that.  It is always fun to push the envelope and come up with different ways to create that perfect blanket of snow on my card front. I want to share a new idea that I tried to create snow with the texture I love using Liquid Applique' and yet getting the crisp white that white craft ink and white embossing powder provides.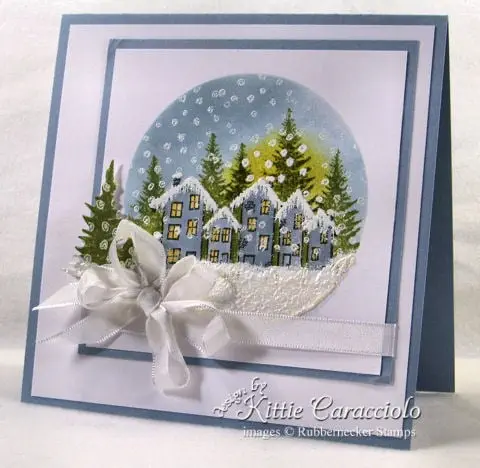 This project is for the Rubbernecker Stamps Friday Focus.  Sherry gave a tutorial on reverse masking and I thought it would be fun to play with the technique but by creating a scene in my mask. I created a mask using a Nestabilities circle die and printer paper and attached to my image layer with Tombo Mono Adhesive Removable (like post-it adhesive).  You want your mask to be thin so you have no problem getting your stamp to create a good image even near the mask   I stamped the   Rubbernecker KK Originals Neighborhood image and masked to protect while I stamped the Kittie Kits trees. I watercolored the houses and then created a little moonlight in the trees with a dauber. I sponged the blue night sky around the images and made sure the sky color was dark enough to really pop with with definition when the mask was removed. I applied Liquid Applique' to the ground area and smooshed it around with my fingers to refine the base of snow to avoid blobs when heating. When the LA cooled I decided to try something new and  sponged on a fine layer of white craft ink to the LA snow and applied white embossing powder and heated again to create a perfect white seal. It made the snow so much whiter to match the perfectly stark white frame around the scene. I stamped Rubbernecker snowflakes on with white craft ink and embossed with white embossing powder. I also painted white craft ink on the house tops with a few icicles and embossed with white embossing powder. Use a tiny little brush for this if you try it and let your brush barely touch in the ink. I finished the project by attaching the white and blue layers and and creating a pure white satin bow for embellishment. Mark December 5 on your calendar and pop into the Rubbernecker Stamps Friday Focus bow tying tutorial.
Stamps: Rubbernecker Neighborhood, Kittie Kits, Snowflake
Paper:  Bordering Blue, White
Ink:  Black Brilliance, Distress Weathered Wood, Peeled Paint, Stampin' Up! Banana, Bordering Blue, White Craft
Accessories: Satin, Liquid Applique', White Embossing Powder, Inkksentials Ink Blending Tool, Brushes, Daubers, Nestabilities, Mono Adhesive Removable
Riley Tree Cutting Day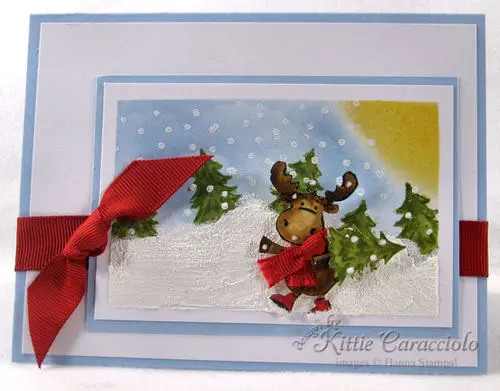 Riley went out into the woods for his annual tree cutting event.  My mom and dad took us out into the woods on our property each year to cut our own tree. It is a warm and fun memory for me. I used exactly the same technique as above for this scene only I cut Riley out to pop up on the snow scene. I created the tree line by masking off the Riley image leaving only the tree to receive the ink, removed the mask and stamped.  I repeated the procedure five times to create a fun and cartoony tree line. I loved the light blue sky with the sunny sky and white snow.  I thought the little touches of red on the scarf and boots were perfect and were the perfect contrast to the blue and white with the addition of the wide grosgrain ribbon and knot.
Stamps:  Hanna-Riley, Rubbernecker Snowflake
Paper:  Bashful Blue, White
Ink:  Brilliance Black, Distress Vintage Photo, Fired Brick, Adirondack Red Pepper, Bashful Blue, Banana Craft, White Craft
Accessories:  White Embossing Powder, Liquid Applique', Grosgrain, Nestabilities Die,