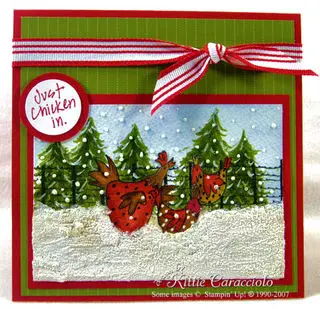 I had to finish my Christmas decorating yesterday and was really busy with household chores but snuck in time to do a project fulfilling requirements for two different challenges. The featured artist on SCS's Sunday Featured Stamper Challenge was flowergal36 aka Dawn and I was inspired by the layout of her card. I changed the theme and colors for my project but kept true to her sketch.  Day three of Paper Craft Planet's Twelve Days of Christmas contest required the use of hens in the project.  You know……..
 
three french hens….two turtle doves and a partridge in a pear tree.
I couldn't resist using the three different chickens in the Stampin' Up! retired set- Best of Cluck.  I stamped and masked off the images and painted with a brush and reinkers.  I used black and white glaze pens to add the dots on the hen bodies. I sketched out the fence using an artist pen and drew the evergreen trees with an Adirondack Lettuce marker.  I added touches of white streaks to the trees with a white gel pen. I sponged the sky and then heat dried the whole project. I used Liquid Applique' to create the snowy ground, dabbed it around with my finger, heated. I applied white embossing powder to the applique' and heat again. This creates a coating over the applique' to eliminate the sticky rubbery feel as well as changes the color from cream to pure white. I put a little puddle of Liquid Applique' on scrap paper and used the tip of my paper piercing tool to apply tiny dots of snow to the sky and heating. This method allows you to apply a small enough amount of LA to not turn into a blob and heats it to the perfect size snowflake  for fun dimension. I thought this would be fun winter card to send to a friend for "Just Chicken In" on how they are doing.
Stamps:  SU Retired Best of Cluck
Paper:  Real Red, Arches Watercolor, SU Designer Paper
Ink:  Clack Craft, Distress Fired Brick, Scattered Straw, Vintage Photo, Ballet Blue
Accessories:  Liquid Applique', Faber-Castell Artist Pen, Adirondack Marker, White Embossing Powder, Grosgrain, Circle Punches