I loved the Limited Supply Challenge Friday on Splitcoaststampers.  The challenge was to create a Clean and Simple ( CAS) card project.  It should be fairly easy to create a simple card front with very few embellishments but it is a far more difficult task than you would think.  At least for me it is.  I don't usually use layers and layers on my cards nor do I use lots of embellishments.  I love creating projects that allow the main image or scene to be the star with limited layers for contrast and a simple bow for just the perfect enhancement. With CAS projects you've got to create a design that can stand alone and pop to create interest without adding all the wonderful and gorgeous embellishments and layers that we usually love to pile on.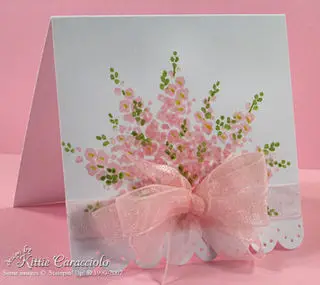 My first project is a 3" x 3" gift card with a sweet bouquet of what look to me like snapdragons. I cut my card just a little longer than 6 inches, scored at 3 inches and then scallop punched the border on the longer side. I used a large upholstery needle to pierce the little eyelets on the border.  The bouquet was created by a solid image that I stamped several times. I applied pink ink to the whole image, wiped off the tips of the flowers with a wet wipe, applied green ink with a marker and then stamped. After completing the full bouquet I stamped a few extra green tips to fill in the bouquet. The soft organdy multi loop bow was just the perfect embellishment to complete this sweet and feminine project.
Stamp:  Stampin' Up! Wildflowers (retired 1997), Paper:  Papertrey White, Ink: Adirondack Shell Pink, Accessories:  Stampin' Up! Scallop Punch, Organdy, Upholstery Needle, Adirondack Lettuce Marker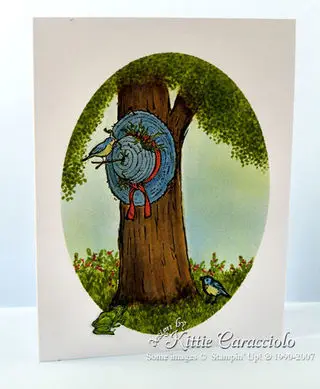 My Second project looks a little more complicated but can stand perfectly on its own and needs no additional embellishment to dress it up. I created an oval mask using a Nestabilities die, centered and attached it on the white cardstock for reverse masking.  The first image I stamped was the hanging hat.  It just screams out that it needs to be hung on a tree out in the garden area so it will always be available for its owner to put on while working in the sun.  The little branch sticking out of the hat with the birdie is so sweet and perfectly unique.  I used an artist pen to sketch a tree large enough to accommodate the hat. I stamped an additional birdie down beside the tree base and masked while adding the green sponged and stamped grass area.  I used a stylus and sponge tip to add the sponged green leaf and ground area and then filled in using grass, mini fern and leaf images. I painted the hat, tree and bird images using  more concentrated reinker mixtures than I normally do as the white cardstock does not hold the true color nearly as well as watercolor paper. I sponged in yellow and blue for the sky. I painted and cut out the frog image, removed the mask and then popped the frog into the scene. I wanted it to be just a little out of the masked area to create interest. 
Stamps:  Stampin' Up! Garden Pleasure (retired 2001), Kittie Kits Outdoor Master, Paper:  Papertrey White, Ink:  Vintage Photo, Peeled Paint, Faded Jeans, Fired Brick, Barely Banana, Bashful Blue, Accessories:  Clearsnap Stylus and Foam Tip, Inkssentials Ink Blending Tool, Brushes, Artist Pen