I had to have Copic Markers after I was introduced to them a year or so ago. My friends, Jeanne  and Sherry, are very talented with Copics. I have had the opportunity to watch them both use the markers on several occasions and they both make it look so easy.  I also had an opportunity to watch Debbie Olson and Trudee Sauer demonstrate at the Copic Booth at CHA last year and it was intriguing to see how effortless they could build color and create beautiful shading. You would think with all this wonderful exposure I would have learned a few techniques to be albe to use them with comfort. NOT!!!!!!!!!!!!! 
The Splitcoaststampers Ways to Use It challenge on Thursday was to use alcohol inks in some form or fashion.  Julia also challenged us to step out of our comfort zone.  It doesn't take much for me to be way out of my comfort zone when using Copic's, and since they are the only form of alcohol inks I own I took the challenge.
I stamped and masked my little farm images from an old retired Stampin' Up! set On the Farm. They are fun images that are big enough to color easily even with the large brush tip of the Copic.  The tips of these markers are too big for my comfort level and I think that is the main reason I have trouble with them.  I love to watercolor with small brushes that allow easy build up of color. I colored the images and tried to do some shading with a couple different colors of each ink but decided to give it up and boldly colored with the red, green and blue and forgot about shading.  I created a sky around my images with two blue markers but it was such a disaster that I cut the sky away from the images and popped them up over a cute piece of Papertrey designer paper. I created the frame with Nestabilities, tied my knots and attached my funny cow for an embellishment popped up in front of the scene.
I have thought many times of selling my Copic markers but will keep them. They are paid for and I do use them to color ribbon and small images occasionally.  But….I have learned one lesson with this expensive purchase.  I will no longer buy everything that seems to hit the stamping community like a wild fire. I own Prismacolor  Pencils, SU Watercolor Crayons, Watercolor Pencils…well the list goes on and on.  When it is all said and done I keep reaching for my watercolor brush, bottle of reinker and a little water. Those are the tools that allow me to express my creative passion and that bring me pure joy.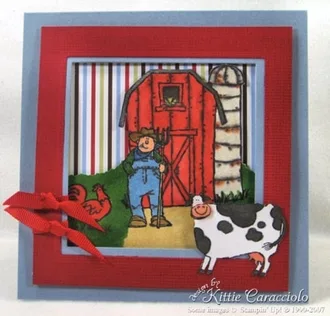 Stamps:  On the Farm, Canvas
Paper:  Bordering Blue, Red, White, Papertrey DP
Ink:  Red
Accessories:  Grosgrain, Copic Markers, Dimensionals, Mounting Tape, Nestabilities