Happy Saturday!  It has been a few days since my last post as my work obligations have gotten in the way of stamping time.  I hate it when that happens!!  I got home early yesterday and had plenty of quiet time to take part in the SCS  Limited Supply Challenge. The main focus of the challenge was to use a solid black card base. My thoughts went instantly to using pink as my contrasting color as I love black and pink together.  And what could be cuter in pink than a big, fat piggy.  Anna Wight's Hamhock was the perfect choice. The pig had a big spot on its back that could easily be painted black to bring the pink and black color combination as the major focus of the scene as well. I know you must get tired of my never ending scenes but it brings me so much pleasure to create them.  It is almost like taking a "relaxing and stress relieving pill" to work on them and I seem to become re-energized.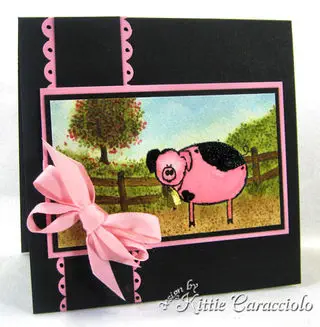 I stamped Miss Piggy on watercolor paper using black craft ink.  I embossed her with black embossing powder as I really wanted the black outline to show up well to bring the black theme from the card base into the scene. I painted the image with pink and black, added a few smaller black spots and thought that one black ear would be just the finishing touch. The layout of the black spots on the pig was inspired by my big white cat, Cassie. She has black ears, one black eye, a totally black tale and a big round black spot on her back hip.  She is so big that we call her Miss Piggy.  Anna's big black spot on the hip was perfect. Woops!  I digressed from my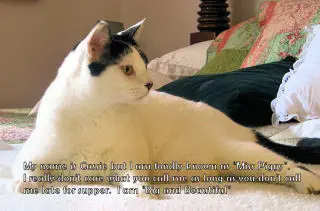 instructions.
I used a waterproof artist pen to sketch in the fence and the base of the little tree in the background. I sponged brown on the ground area around the pig and green grass along and behind the fence line. I sponged in green for the leaf base of the tree and then I used my Kittie Kits fern stamp to create texture in the grass as well as to create the leaves and pink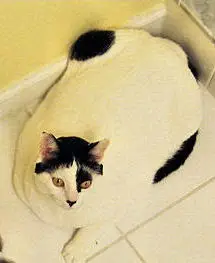 flowers on the tree. I sponged blue in for the sky area using a small hand cut out cloud template. My final stamping touch was to add brown dirt texture to the ground with my Itty Bitty Background image. I cut a pink strip of cardstock and punched with my SU scallop border and added black Glaze dots to once again bring in the black and pink combo. I layered the card together with the pink and black cardstock and finished with a darling multi loop pink bow.  I added a bit of gold jewelry to Miss Piggy by using a Krylon gold leaf pen to create a bell for her necklace. I think this is one of Anna's cutest farm animal images.
I hope you have a wonderful weekend.  I am going to be busy getting projects ready for my upcoming blog week on Stamper's Quest Magazine.  Please come over and check it out.
Stamps: Whipper Snapper Anna Wight- Hamhock, Kittie Kits, SU Itty Bitty Background

Paper: Black, Pink, Watercolor
Ink: Black Craft, Vintage Photo, Peeled Paint, Latte, Pretty in Pink, Regal Rose, Bashful Blue
Accessories: Twill, Brushes,  *Stylus & Oval Foam Tips, Scalloped Border, Glaze Pen, Krylon Gold Leaf Pen, Artist Pen
* I have to take a minute and tell you how much I love the Clearsnap Stylus and Foam tools. I just discovered them (have I been under a rock) a few weeks ago and wanted to try them out for a few projects before I mentioned them to you. Kevin Nakagawa has been the January guest artist on Stamper's Quest Magazine and I found my way from there to  Stampscapes Rubber Stamps online tutorials. Oh my! What an eye opener for me as the scenes created with these tools on glossy paper are fantastic. I wondered if I could use them on my watercolor paper as well. Needless to say…..I am in sponging heaven and it is a perfect tool for my needs.
All Rubbernecker, Stamp Oasis and KK Original images
are on sale for a few more weeks until our new releases begin or while supplies last
All discounts, free offers and coupons still apply during the sale.
TAKE A PEEK AT THE SPECIALS AND CLOSE OUT PRICING