I love watercolor paper and have lots of it in my stash. My favorite paper to work with until yesterday was Arches Cold Pressed Grain Fin 140 lb weight.  My friend, Michele (mitchygitchygoomy) sent me a gift of a few sheets of ultra smooth watercolor paper and I used it last night for my SCS Color Challenge project.  Oh my!  I fell in love with how easily color can me applied with both brushes and sponges. I wrote Michele to find out the brand of paper and as soon as I find out I will share that information with you.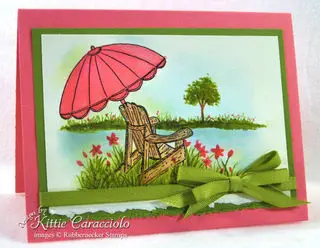 I used a Rigger brush and hand painted sprigs of grass around the base of where I wanted to stamp the Adirondack
chair. Painting the grass first and masking it before stamping the chair allows the base of the chair to be hidden in the grass and creates a much more natural scene. I masked the chair and added the umbrella and then painted both.  I painted in additional sprigs around the chair and hand painted in the delicate flowers. I added water to the scene by masking off the sky area with a straight edge of paper leaving the water area open for sponging.  I lightly applied the blue with a small sponge dauber, creating a straight line of blue water.  I loved how the water appeared to be endless and if I had wanted an ocean scene would have left it alone.  The scene called for a much smaller body of water like a lake or pond in an area where grass and flowers grow freely. I painted in the thin land strip right across the straight water line and filled in with the tree and delicate grass sprigs.  I used a larger sponge to fill in a light blue sky area and added a touch of yellow for sunshine.  My favorite aspect of this project is that I didn't allow the scene to totally cover the paper.
Stamps:  Rubbernecker Kittie Kits-Fun in the Sun
Paper:  Ultra Smooth Watercolor, Cameo Coral, Old Olive
Paper: Cameo Coral, Old Olive, Creamy Caramel, Bashful Blue, Barely Banana, Brilliance Black
Accessories:  Twill, Brushes-Small Round and Rigger, Stylus and Foam Tip, Sponge Dauber