I am having such a wonderful time playing with the new Papertrey Home Made set and template.  This is the third of three houses so far and I'm selling them at work to raise money for our Adopt-a-Family project.  I work in a physicians office and I set the houses and my Christmas cards up on the counter where the patients have to check out and PAY.  Sneaky, huh? Anyway, this is my favorite house so far.  Lots of details and lots of time involved but I love the end result.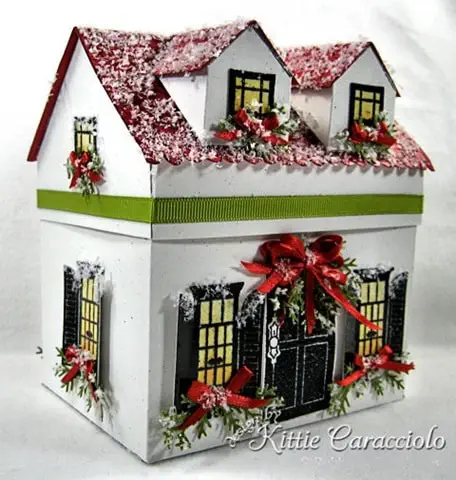 Front view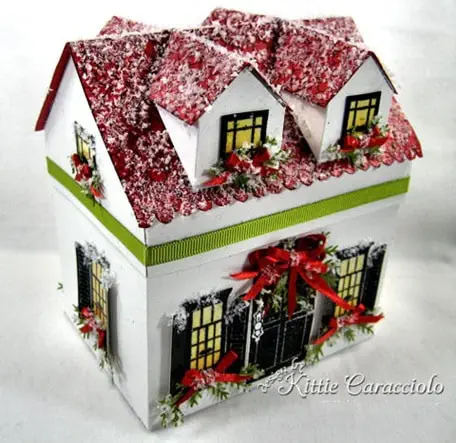 Roof view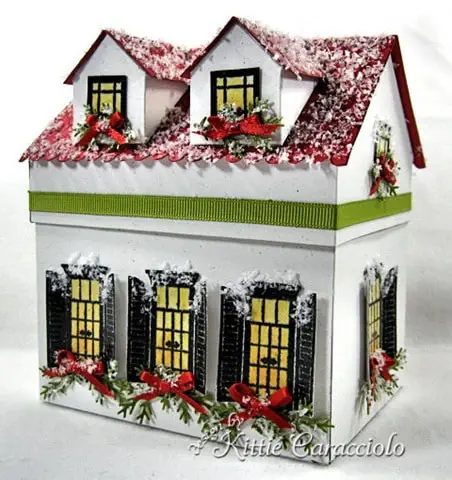 Back view
These houses are really simple to make but you need a little patience to do the detail work.  I love the snow on the roof and on the little green pine wreaths in all the windows.  All the windows and the door were stamped with black craft ink, embossed with black embossing powder and cut out. I painted all the windows yellow to look like the lights are on all over the house. Flower Soft is the perfect product to create that soft snowy roof. I painted Mod Podge on a little at a time with a brush and applied the snow.  I attached them so the shutters were popped out a bit.  It adds lots of character to the house. I would have loved to photograph this with snow all around the base but I used the last of my Flower Soft on this house.  I hope my new bottle is delivered tomorrow. 
Limited Supply Challenge
The SCS Limited Supply Challenge today was a "White Christmas".  We were to use only white paper and accessories and could only use one ink color.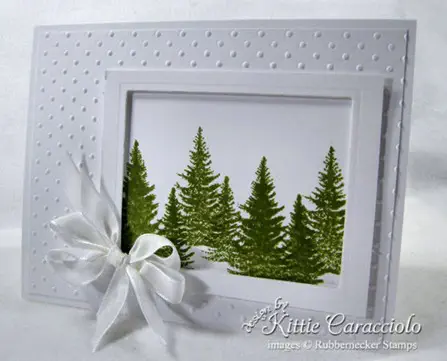 I love the stark white frame and background and the simplicity of the green trees.  This is so peaceful to me and a really fast project, too!
I hope you all have a wonderful and restful weekend.
House Project:  Stamps:  Home Made   Paper:  Red, White      Ink:  Black Craft, Lemonade    Accessories: Satin, Flower Soft, Mod Podge, Black Embossing Powder, Martha Stewart Punch, Glue Dots, Grosgrain
Card Project:  Stamps:  Rubbernecker Kittie Kits–The Moose is Loose   Paper:  White    Ink:  Peeled Paint    Accessories:  Taffeta, Cuttlebug, Nestabilities