The  Color Challenge on SCS this week was to use vanilla, black and a soft brown.  When I saw the challenge I instantly thought of the stark bare winter trees in the Lovely as a Tree set and a brown pathway in the snow.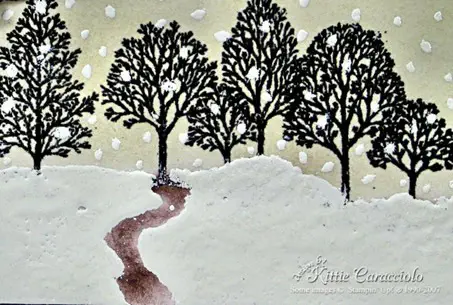 I stamped the tree line on the paper with black craft ink and embossed with black embossing powder.  I used a dry brush and gathered ink by wiping directly on the brown ink pad and then lightly stippled in the pathway.  I sponged the sky area with Old Paper and then heat set both the sky and path area so powder wouldn't stick when I did my snow embossing. Hint:  Ranger Adirondack and Distress inks dry much slower than Stampin' Up inks.  You can actually do a great job of embossing with those inks.  You will always need to heat dry any area where you don't want powder to stick or at the least allow the project to sit and air dry (I don't have that kind of patience). I painted the ground area with a layer of vanilla craft ink and embossed with vanilla embossing powder.  I added a couple extra layers of ink and powder along the path and the tree line to definition to the snow. I painted on falling snow flakes and embossed with the vanilla powder.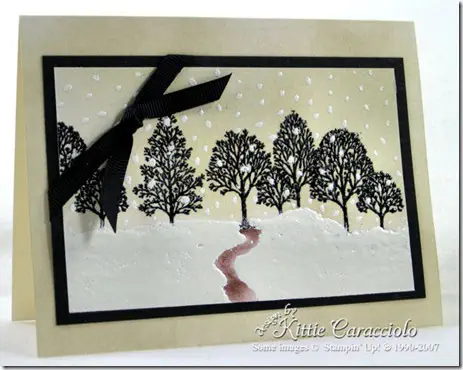 I love the contrast between the black and vanilla and the addition of the little brown pathway.
Stamps:  Lovely as a Tree     Paper:  Vanilla, Black, Watercolor     Ink:  Black and Vanilla Craft, Close to Cocoa, Old Paper     Accessories:  Grosgrain, Vanilla and Black Embossing Powder, Brushes, Sponges