This certainly is a busy time of year.  I haven't been able to post on my blog or play in the SCS challenges for over a week and I sure have missed it. Christmas is almost here and we will soon be turning to Valentine and spring images to play with.  I wanted to do one more good snow scene before I started pulling out my grass sprigs and flower images. I am a little sad each year when the holiday is finally over as snowy Christmas cards are my favorite.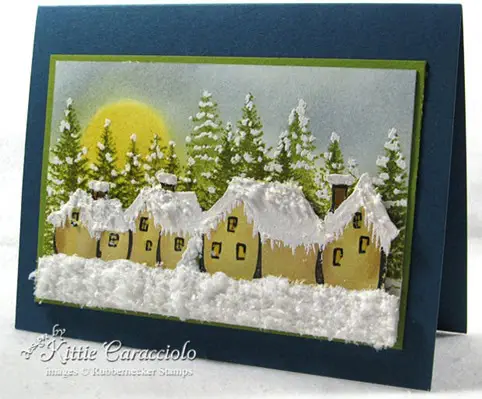 I stamped the Rubbernecker Village on watercolor paper and watercolored with a brush and reinkers. Since I knew I wanted to create snowy roof tops with white craft ink and embossing powder I heat set the color on the houses so the powder wouldn't stick on wet ink.  I painted the craft ink on the roof tops and ground with a small brush and applied the embossing powder.  I cut the scene out to pop up in front of the forest of trees. I stamped a row of trees on watercolor paper, heat set and then applied craft ink with a brush to create snow on the branches and embossed with white embossing powder.  I sponged in the yellow moon and then sponged the blue night sky around the moon.  I attached the village with mounting tape and then applied glue and white Flower Soft for the soft snow. I didn't think this project required any embellishment.
I hope you each have a wonderful  Holiday week and enjoy your friends and family.  Merry Christmas!!
Stamps:  Rubbernecker Village and Kittie Kits The Moose is Loose    Paper:  Not Quite Navy, Olive, Watercolor     Ink:  Weathered Wood, Old Paper, Lemonade, Peeled Paint, Vintage Photo, White and Black Craft    Accessories:  Color Box Sponges, Brushes, White Embossing Powder, Flower Soft, Mounting Tape,