Rubbernecker Sales Event One Week Only
Ranger, Clearsnap, Tsukineko, Spellbinders
Most products 15% – 28% off
Hi everyone!  It's been a few weeks since I posted on my blog but I finally got my fingers inky this week.  I could feel the stress flowing out of my shoulders as I painted this fun project for Mothermark's  Teapot Tuesday Challenge. If you want a good read and some fun laughs check out the Teapot gallery on SCS and follow the story of Ruby and Swoop.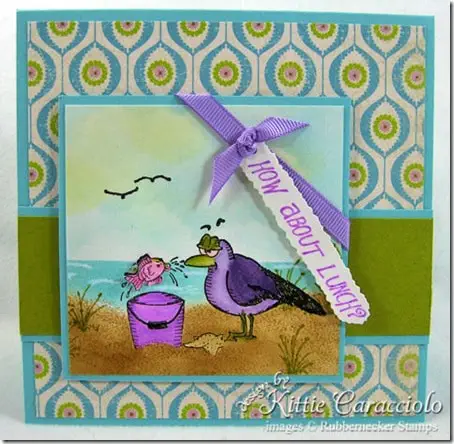 I stamped my image on watercolor paper and covered with a cut out mask of the image to protect it while creating the scene around it.  I sponged in the brown sand and then placed a straight line mask across the sky portion of the scene and sponged in the blue water area. I used a cloud template to sponge in a lighter color of blue for the sky and sponged in a little bit of yellow for a sunny look. I stamped sand texture all around the sandy beach as well as adding a few sea oats.  I removed the mask and painted the images with a watercolor brush and reinkers.  I love the My Mind's Eye paper color and pattern and thought it worked perfectly with my scene colors. 
I hope you all have a wonderful run and restful weekend.
Stamps: Rubbernecker Fishy, Fishy, Kittie Kits Beach Master   Paper: Tempting Turquoise, Watercolor, Designer, Olive   Ink: Dusty Concord, Orchid Opulence, Latte, Peeled Paint, Pink Sherbet, Aqua, Lemonade
Accessories: Grosgrain, Deckle Scissors, Brushes, Sponges