Happy Monday Morning everyone. I hope you had a fun and restful weekend. I have a story to share before I move on to stamping. I had an interesting weekend introducing a new cat into our already packed house of kitties. Let me insert here that there must be a blinking neon sign on my house announcing that I am a huge sucker for stray animals. A big cat appeared on our back patio inside our 6" fence in January and he never left.  He had been either dropped or had gotten lost from home.   It was obvious he had been out on his own for a very long time as he was so thin and starving.  Much to my husbands displeasure I couldn't resist feeding him.  Someone had to take care of him.  After a couple of weeks to see if he was going to stay I took him to the vet for tests and a check up and he was found to be fairly healthy and thought to be about six years old. Since we already have four cats in the house we decided Buddy was going to be our outdoor cat.  Last Wednesday I came home and found Buddy on the front porch having an attack of some kind with labored breathing.  I raced him to the vet and it was determined that he was having an asthma attack and that he could not live outside in our terrible heat.  So there has been much hissing, growling, stare downs and out and out attacks on poor Buddy and I know he feels under siege. It is getting better but I know it will take a long time for everyone to be a happy family. 
I have some weekend cards to share with you. First is a beach scene with a vintage Woody and a surfboard.
 
This was a fast scene to create using my sponges and Kittie Kits Beach Master. The Woody was stamped on watercolor paper and cut out to pop up on the frame.  I hand painted the little scene on the hand cut surfboard.
The second is a couple of friendly lambs made using a new image and sentiment from the Rubbernecker Friends Collection.  The image was stamped twice on watercolor paper, cut out and popped up in the little scene.  Aren't they cute.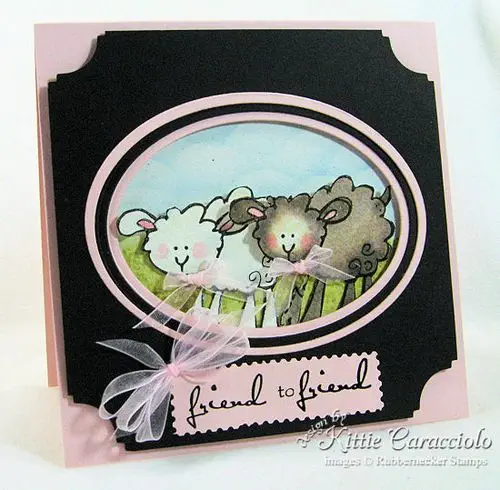 I am the guest designer this week for the SCS Clean and Simple challenge.  The challenge was to make a tall and think card.  I couldn't resist using my cornflower and hydrangea punches to create a floral spray.  You can check out my punched paper flower and floral spray tutorials on the top right side of my home page.
Stamps: Rubbernecker Woody 567-01, Kittie Kits Beach Master M002
Paper: Soft Sky, Watercolor
Ink: Antique Linen, Vintage Photo, Aged Mahogany, Peeled Paint, Broken China, Black Versafine
Accessories: Sponges, Brush, Nestabilities
Stamps: Rubbernecker Friends Collection
Paper: Pink, White, Black, Watercolor
Ink: Black Versafine, Pumice Stone, Shabby Shutters, Bashful Blue, Shell Pink
Accessories: Organdy, Nestabilities, Brush, Sponge, White Watercolor Paint, Corner Cutting Scissors
Stamps: Rubbernecker Friends Collection Thinking of You 565-10
Paper: Cool Caribbean, White
Ink: Broken China
Accessories: Mouse Pad, Stylus, Crimper, Martha Stewart Lattice, Cornflower, Hydrangea, Pine Punch, SU Bird Punch, Fiskars 1/4" Flower Punch, Glossy Accents, Postal Decorative Scissors