I have a sweet project to share with you today.  I love cats and dogs and have had both as pets over the years.  I have a house full of cats right now and it is like having a cat rodeo most of the time.The Stampavie Kitty On The Swing by Gillian Roberts is such a cute image with the little girl and her kitten but  I couldn't resist adding a couple additional kittens to my scene.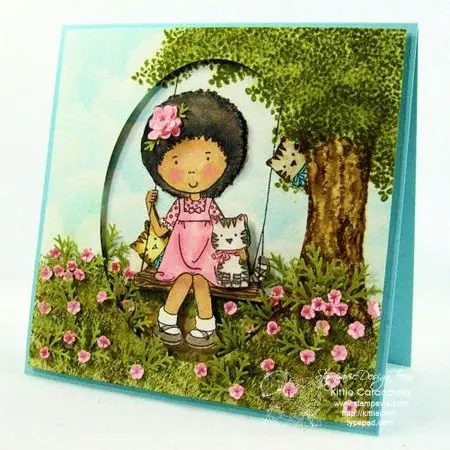 I stamped the image on watercolor for the base of the scene and again on scrap watercolor paper.  I colored all the images using a brush and reinkers with mixed with water. I hand painted a tree trunk on a second piece of watercolor paper and stamped in leaves using the mini fern stamp from my Kittie Kits Outdoor Master. I carried the leaves image out of the frame and onto the base of the card.  I sponged in blue sky on both the frame layer and base layer of the cards.  I used a hand cut cloud template to form the clouds. I cut out the images and popped them up in the scene.  I placed the additional kittens around the scene to be peeking out from behind the tree and girl. I filled in the grassy area with grass sprigs and then added sprigs of punched foliage and tiny punched flowers.  I added a large flower to the little girl's hair to match her pink dress.  I love how the scene is carried from the layer layer on to the main base layer of the card.
Click on the photos to see a closer view
 
I'm glad you stopped by and hope you have a wonderful day.
Stamps:  Stampavie Gillian Roberts Kitty On The Swing, Rubbernecker Kittie Kits Outdoor Master     Paper:  Watercolor, Aqua, Pink    Ink:  Black Versa fine, Shell Pink, Tea Dye, Pumice Stone, Black Soot, Peeled Paint, Vintage Photo, Walnut Stain, Aqua   Accessories:  Martha Stewart Pine Punch, Fiskars 1/4" Flower Punch, Sponge, Cloud Template, Brushes, Nestabilities, Glossy Accents