I don't do guy cards very often but couldn't resist making one with the Memory Box Deer Trio die that I recently got.  I purchased it to have for Christmas but it is also perfect when you need a masculine card.  I paired it with Leafy Branch, little flowers from the Flower Mound die,and Poppy Stamps Grassland Border. I framed the whole scene using the Poppy Stamps Splendor Frame.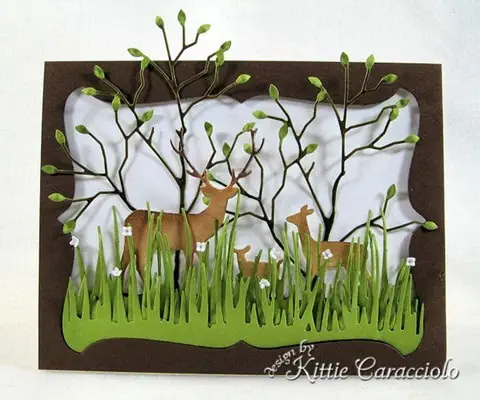 I started by die cut the deer trio using watercolor paper.  I colored the deer using Brushed Corduroy and Vintage Photo Distress markers and blending with a wet brush.  I cut three layers of the grassland border and two leafy branches out of olive cardstock. I colored the branches with a Vintage Photo Distress Marker leaving the leaves green. I used a stylus and a mat to form the leaves and branches to add a more natural appearance.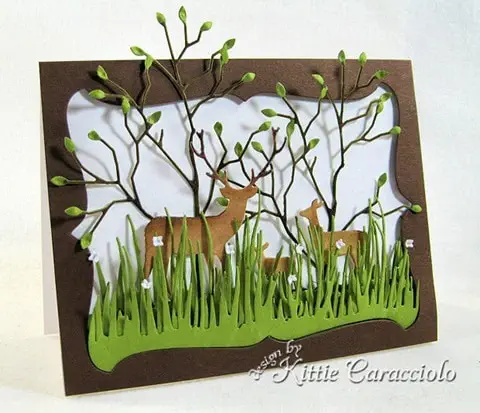 click on the photos for a closer view
I first attached the deer to the white card base.  I popped the top of the deer bodies up with rolled up glue dots. I didn't add blue clouds in the background as I really like the contrast between the greens and browns against the white. I attached the three grass borders staggering them across so the grasses wouldn't line up and would look more natural. I adhered mounting tape to the back of the frame and attached to the card base and over the scene. I waited to attach the leafy branches in behind the deer and grass so I could see the best height and placement.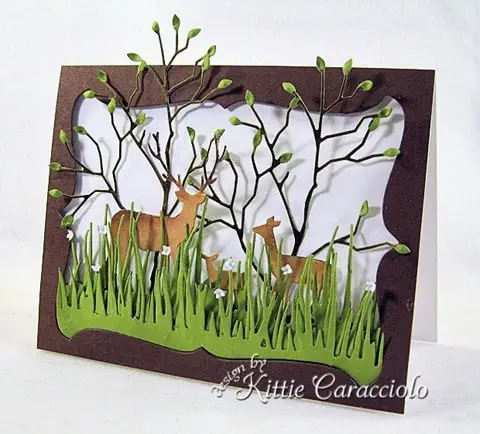 I know this is a guy card but I couldn't resist adding a few tiny white wild flowers to the woodsy scene. I used the Flower Mound die to cut white cardstock to get a multitude of tiny flowers with one sweep in the Big Shot. I used the tiniest little X shaped flowers (see picture below) to add just a touch of softness to the grass. On a side note and speaking of tiny flowers…..I have found my new favorite tool for tiny flowers.    I am going to run several colors of cardstock through with the die and create a little stockpile of tiny flowers to reach for when I need them.
I hope you enjoyed my deer trio scene. Stop by Thursday to see a card made with the same Splendor Frame that I used today and using the Memory Box Cherry Blossom die and Twigs and Berries dies.
Paper:  Old Olive, Chocolate Chip, White, Watercolor    Ink:  Distress Markers   Accessories:  Memory Box Deer Trio, Leafy Branch, Flower Mound, Poppy Stamps Grassland Border, Splendor Frame, Glossy Accents, ATG, Mounting Tape, Glue Dots, QuickStik, Stylus, Mat,