Good Thursday morning.  I want to thank all of you for your comments on how I could complete my stocking and fireplace card.  There were so many wonderful ideas and I tried to incorporate several of them to embellish and enhance the design.  First, I would like to announce that Stephanie Bonin left the 27th comment and is the winner of the Memory Box Ribbon Candy Border and I will also send her my finished fireplace card.  Congratulations, Stephanie.  Please send me your mailing address and I will get your gift right out to you. You can find my email address on the right hand side of my blog home page.
True Random Number Generator Min:Max:Result:27
27
Stephanie Bonin said…
This is beautiful. For the bottom you could put a tiered stand to hold pillar candles or just put Merry Christmas.
Reply August 17, 2012 at 08:51 AM
Here is a picture of the original card from my August 17th blog post. It was cute but definitely needed some additional elements.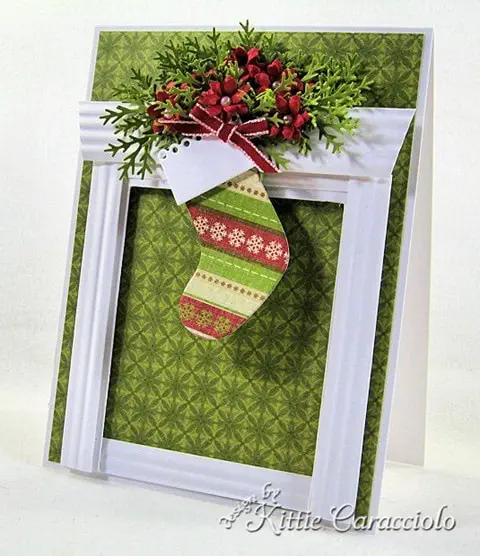 There were many suggestions to add fire, logs, baskets of pinecones, a sleeping dog, a sleeping cat, an embossed brick background, piles of packages, candles and lots of other ideas. Here is what I came up with after reading all of your wonderful and creative suggestions.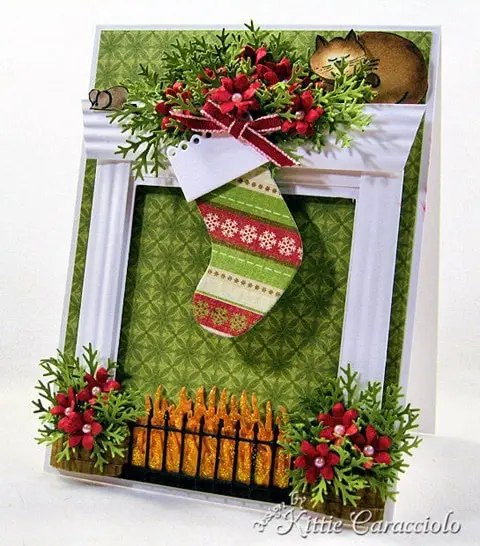 I decided to add the cat from Anna Wight's Cat's Life set but place it on the mantle instead of the floor.  I couldn't resist putting a little mouse sneaking across the mantle on the opposite side.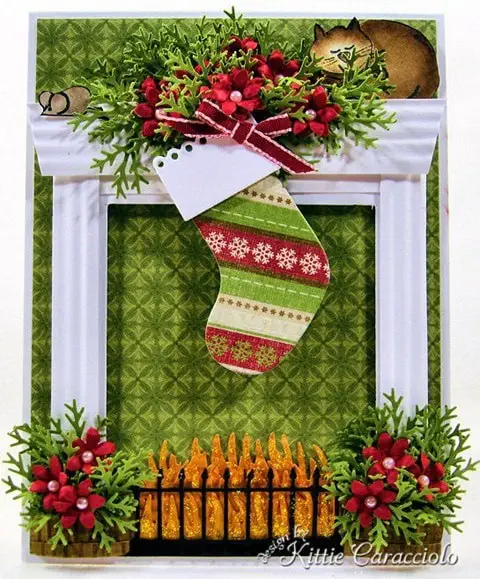 I really loved the wrought iron screen and fire suggestions.  I used the Memory Box wrought iron fence for the screen and created the grass with layers of My Favorite Things Fresh Cut Grass border. I cut the grass out of a bright mustard cardstock and lightly sponged on orange ink to give the appearance of flames. I crimped all the layers before attaching to the base of the card and attached the screen in front of it. I applied a bright yellow Stickles on the flames to create sparkle for a crackling fire. I hand cut two baskets out of kraft cardstock, sponged with brown and attached on both sides of the fireplace. I filled the baskets with more evergreen sprigs and red flowers. I loved the embossed brick idea and have the embossing folder but I just didn't want to take the card apart to add it.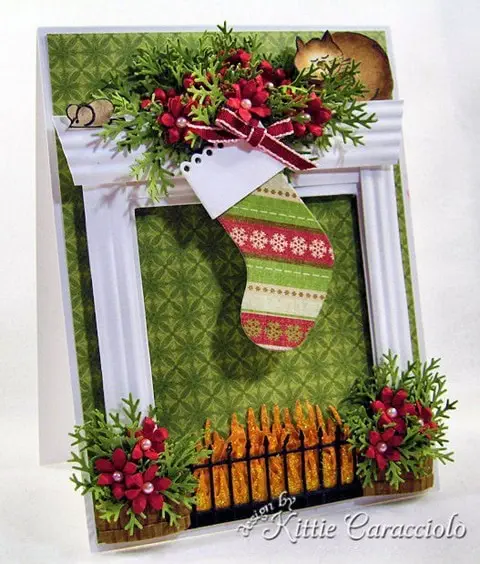 This is a pretty busy card but I love how it turned out. Thank you all again for all of your lovely comments and suggestions.  I love giving away blog candy and this card gave me the perfect opportunity.  I hope you have a great day and thanks for stopping by.
Paper: White, Red, Old Olive, Designer Paper Accessories: Memory Box Eyelet Stocking, Wrought Iron Fence , Punch Bunch Large Cedar Sprig, My Favorite Things Fresh Cut Grass  EK Success Mini Daisy Punch, Crimper, Pearls, Grosgrain, Glossy Accents, Mounting Tape, Stylus, ATG, Stickles