Good Sunday morning. I have a fall scene to share with you today,  I love the Orchard Tree Frame because it is versatile and works for all seasons.  I created a fall tree by adding leaves from the Leaf Canopy die.
I started by sponging clouds on the Debutante Frame background.  I colored in the tree branches and trunk with a vintage photo Distress Marker and attached all colorful leaves with glossy accents. 
I attached the  Fence Trio sections to the back of the tree frame and then attached the fresh cut grass sections  behind the fence.  I attached small thin strips of mounting tape to the back of the tree frame and then attached it to the sky layer.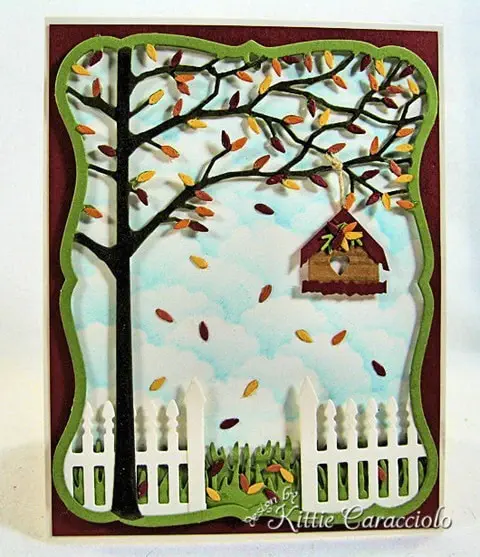 The birdhouse was made using a 3/4" square punch and hand cut roof and base sections.  I added a few fall leaves to the roof line for a tiny leaf spray.  I attached a tied linen thread to the tree branch with glossy accents and then attached the birdhouse over the thread with mounting tape.  I applied a few colorful falling leaves to the sky and ground for the perfect fall finish.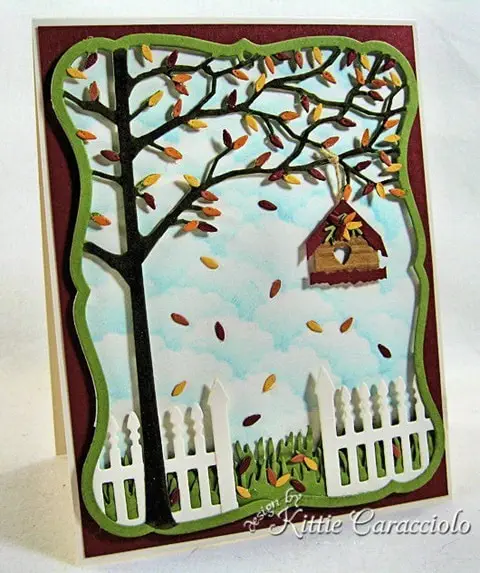 Have a great Sunday and thanks for stopping by today.
orchard tree frame leaf canopy fence trio debutante frame fresh cut grass distress markers glossy accents quickstik big shot 
Paper:  Cream, Cherry Cobbler, Old Olive, Kraft, Pumpkin Pie, More Mustard, Really Rust   Ink:  Tumbled Glass, Vintage Photo   Accessories:  Memory Box Orchard Tree Frame, Debutante Frame, Leaf Canopy, Impression Obsession Fence Trio, My Favorite Things Fresh Cut Grass, Glossy Accents, Inkssentials Ink Blending Tool,  Hand Cut Cloud Template, ATG, Distress Markers