Good Tuesday morning.  Fall was a wonderful time of year where I grew up in West Virginia.  Living in Florida leaves me homesick for seasonal changes and all the wonderful fall colors.
My card today was inspired by a project Jeanne Streiff posted on her Inky Paws blog a couple of weeks ago called Celebrate Fall.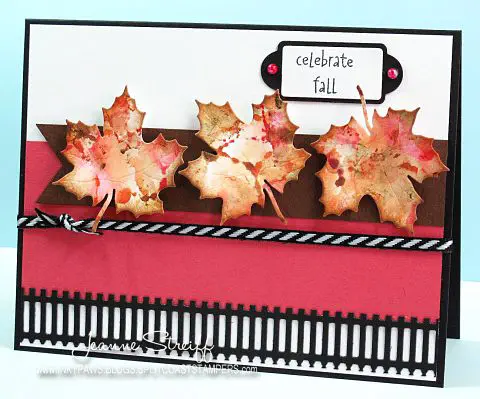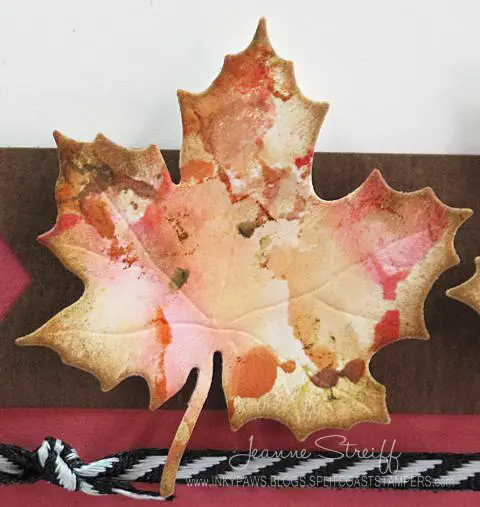 Isn't this a gorgeous leaf! Jeanne used a technique with alcohol markers to create gorgeous fall leaves. You can check out her tutorial here.
I wanted to create a fall scene with multi colored fall leaves for my bare branch. Instead of using alcohol inks for my palette I decided to add a few drops of four different color distress reinkers  to a piece of cut & dry pad foam to create a multi colored ink pad.  The trick is to make sure to keep the colors fairly separate so they don't run together and get murky. I used the pad to lightly sponge color onto a piece of white cardstock making sure not to overlap the inks too much.  When I had the paper covered with color the way I wanted it I heat set before die cutting the leaves.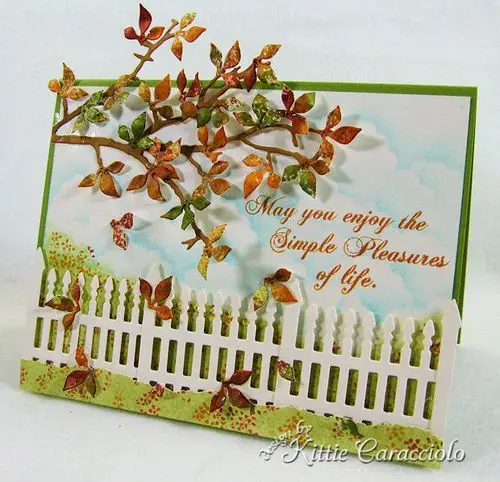 I sponged brown ink on the branch and then attached the leaves to the bare branch with glossy accents. Here is a little closer view of the colorful leaves.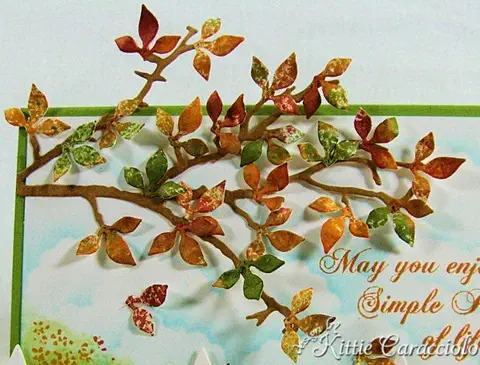 I sponged in the ground and sky and stamped some colorful markings on the grass area using the mini fern image from my Kittie Kits Outdoor Master and also stamped the sentiment.  I cut the fence and attached a small section of grass border to the bottom of the fence that matched the sponged in background and attached the fence to the scene with mounting tape
.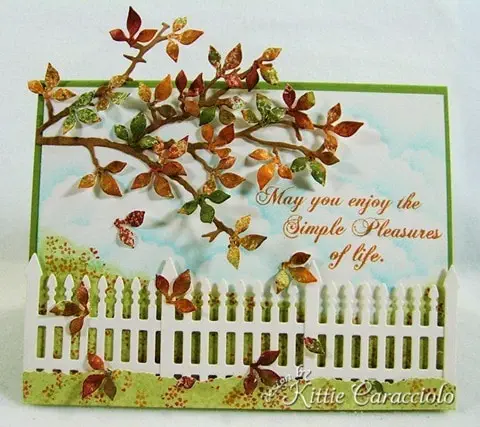 I attached the branch to the sky area using glossy accents and added a few falling leaves on the fence and ground area. I love how the leaves turned out and the simplicity of the card and sentiment.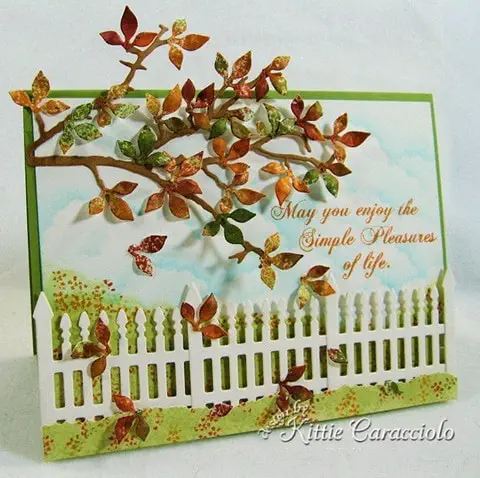 OK.  Are you getting tired of my branches and fences?  I just can't help myself.  I seem to have gone branch and fence crazy lately. Have a great day and thanks for stopping by.
 Stamps:  Impression Obsession Sold Tree Set    Ink: Distress Ink and Reinker   Shabby Shutters, Vintage Photo, Peeled Paint, Fired Brick, Rusty Hinge, Spiced Marmalade   Paper:  Cream, Olive, Kraft   Accessories:  Impression Obsession Fence Trio, Bare Branch, Mounting Tape, Glossy Accents, Quickstik, Hand Cut Cloud Template, Inkssentials Ink Blending Tool, Deckle Scissors, Ranger Cut & Dry Pad Foam