Good Saturday morning.  Before I get to my post this morning I want to point out the great  Labor Day Special Accessories Sale at Rubbernecker Stamps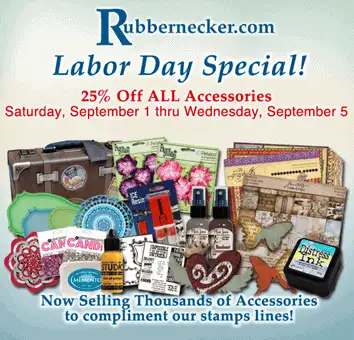 I love the new Impression Obsession Fence Trio and thought it would pair perfectly with a snowy Bare Branch and handmade snowman. I made the snowman with circle punches and hand cut a little black hat. I used a black glaze pen to create the eye, mouth and buttons down the front.
I cut the fence and attached the sections together with glossy accents.  I attached to the card base and applied the wavy snowy border in front of it.  I attached the twinkling snowflakes in the sky using glossy accents and my wonderful QuickStik.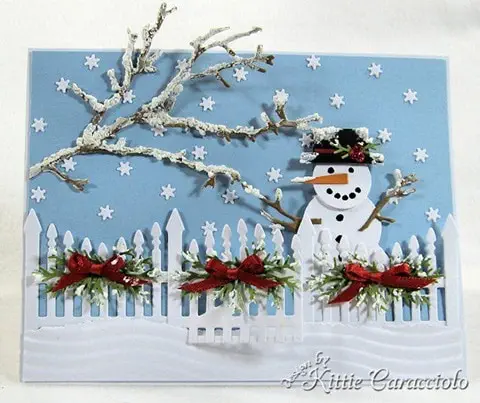 I cut the bare branch and applied liquid applique to create the snow, lightly spread it around with my finger and heated. I created pine boughs on each fence section using the pine branch and added little red bows. I added a little LA on the hat, nose, arm branches and pine for a finishing touch.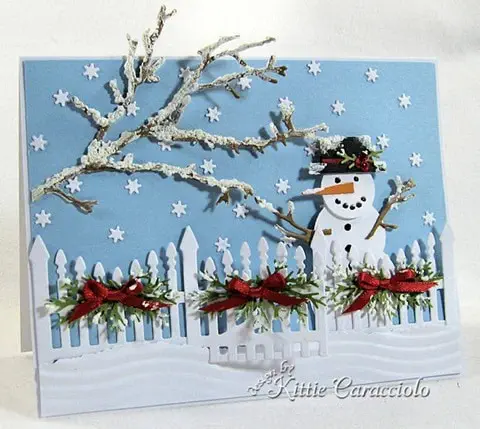 Have you checked out all the new Impression Obsession dies?  If not you definitely need to.  I hope you have a wonderful three day holiday weekend.  I surely am looking forward to it.
Paper:  Blue. White. Black. Kraft, Olive, Orange    Ink:  Distress Ink Vintage Photo    Accessories:  Impression Obsession Fence Trio, Bare Branch, Memory Box Twinkling Snowflakes, Martha Stewart Branch Punch, Liquid Applique, Satin, Inkssentials Ink Blending Tool, Glossy Accents, 11/4", 1" and 3/4" Circle Punches, 1/8" Hole Punch, Deckle Scissors, QuickStik, Black Glaze Pen