Good Wednesday morning.  I have a simple (blurry) snowy pine tree village to share with you today.  I had the hardest time taking these  pictures.  I just knew there was something wrong with my camera because they looked so blurry.  I took several sets and when trying to edit them I just couldn't get them any better. After thinking my camera settings were all goofed up I finally tried taking a picture of another card and it came out perfectly crisp.  I guess all the little houses against the white and dark just didn't want to cooperate for me.  So….blurred pictures is all I have to share. 
I started by cutting a couple each of the Pine Tree Border and Country Landscape.  I colored the trees and houses with distress markers. 
I wavy crimped and created a little neighborhood by cutting houses and trees off of one of the die cuts and arranging them on the hillside of the second cut. I layered the neighborhood over the the wavy crimped pine tree border and finished by adding a third and final snow layer.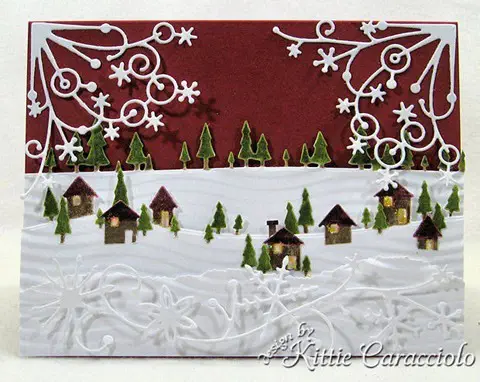 I finished by adding the snowflake corners and frosty border for a little snowflake softness and dimension and a touch of yellow stickles to the windows.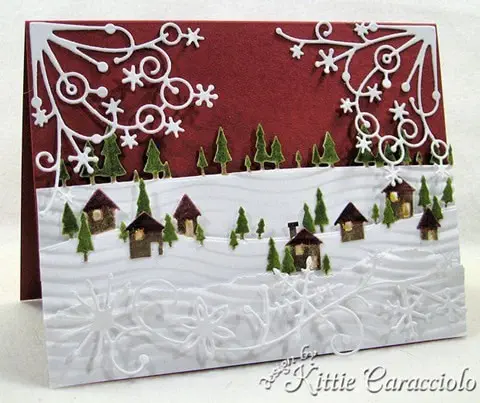 I hope you have a great day and I appreciate you looking in.
Paper:  Cherry Cobbler, White  Accessories:  Poppy Stamps Pine Tree Border, Memory Box Country Landscape, Snowflake Corner, Frosty Border, Fiskars Wavy Crimper, Distress Markers, Glossy Accents, Mounting Tape, Yellow Stickles