Good Wednesday morning.  I have a clean and simple project to share today with a sparkly twist. I have been having lots of fun making fall projects with colorful leaves.  I wanted to make a fall wreath using the Tender Leaves die set and this is what I came up with. 
I die several sets of leaves out of cardstock that I colored using four different colors of Distress Ink reinkers.  I poured the inks out on a piece of cut & dry foam making sure not to allow the colors to mix together to become murky. I sponged it over a piece of cream cardstock to create my own multi colored paper.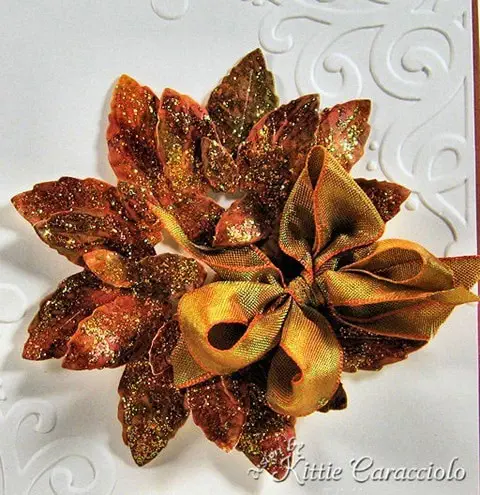 I cut an open circle using two circle dies to create the base for the wreath.  I attached the largest leaves first and then layered the next size alternating the placement and repeated until I had applied all four sizes.  You can check out my wreath tutorial if you would like to see some step by step pictures of how I do this.  The tutorial is with a different foliage but it is the same technique. I finished by adding a shimmery multi loop bow that had the exact colors of my leaves.  I attached the wreath to the embossed layer with mounting tape and attached the embossed layer to the base with mounting tape.  I wanted create a bit dimensional interest.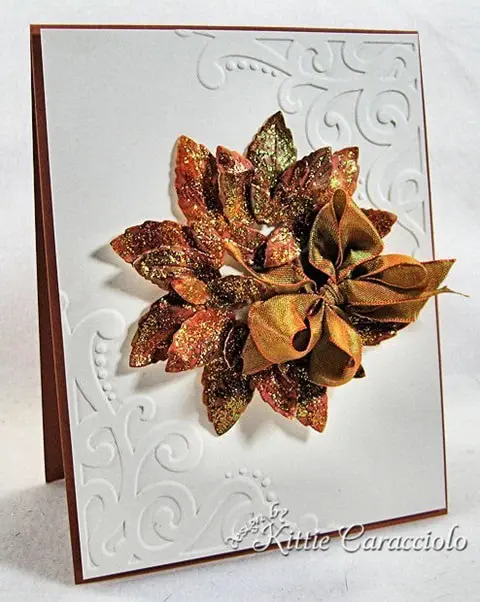 You can go ahead and laugh now as I did my usual goof by trying to add interest and sparkle to the leaves with Stickles. LOL! As you can see I got a little carried away. I still like the project though and it really is so much prettier in person than in the photos.
Thanks for stopping by today and thank you very much for all the wonderful comments on my Magic Box project.
Paper: Really Rust, Cream
Ink: Distress Ink  Reinker Fired Brick, Spiced Marmalade, Peeled Paint, Rusty Hinge
Accessories: Memory Box  Tender Leaves , Sizzix Corners & Lattice  2 Pack Set , Glossy Accents , Mounting Tape , May Arts Ribbon, Stickles, Ranger Cut & Dry Foam, Spellbinder Standard Circles Dies, .