Good Wednesday morning.  I trust you had a wonderful Christmas. I have a framed mini rose nosegay project to share with you today. I haven't used my Martha Stewart PATP sets lately so I pulled out the Deco Flowers set to make a frame.  I like combining this kind of frame with an embossed background and flowers.  I kept it simple and used only tiny roses and foliage.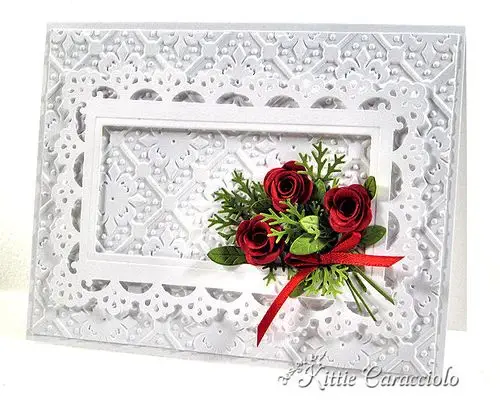 I embossed the layer and attached to the card base.  I punched the frame  using a 5" x 3.25" piece of cardstock and then cut the opening with the rectangle die. I mounted the frame on the base using mounting tape.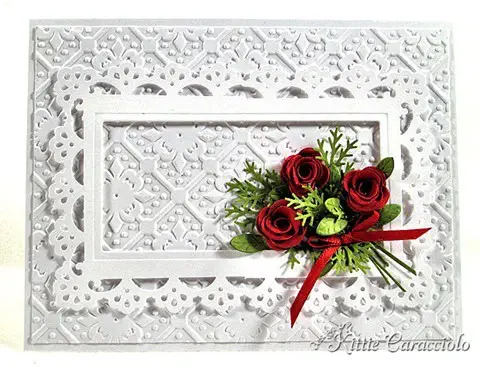 I rolled the three mini roses and cut the curvy stems and attached to the roses.  I like the foliage leaves the stems provide to surround the rose heads.  I added a few sprigs of the branch punch to soften and finished off the nosegay with a simple red bow.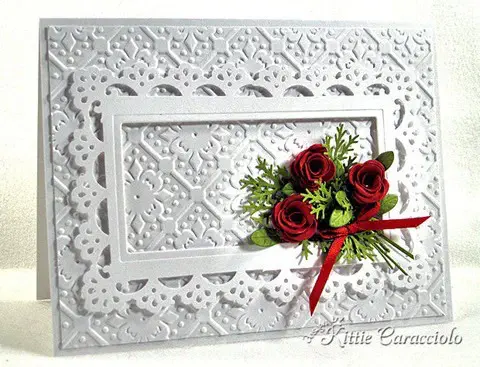 I am off and luckily don't have to go back to work until the 2nd of January.  Wheeeee!  Have a great day.
Paper:  White, Red, Olive    Accessories:  My Favorite Things Mini Rolled Roses, Poppystamps Curvy Stem, Martha Stewart Deco Flowers PATP Set, Martha Stewart Branch Punch,  Spellbinders Long Classic Rectangles, Sizzix Corner & Lattice Set, Mounting Tape, Glossy Accents, Needle Nose Pliers, Stylus, Metal Adapter Plate, Mat, Satin, Teflon Bone Folder, Paper Piercer, ATG,