Good Christmas Eve morning!  I have created two different sparkly all white Christmas projects this season using this gorgeous Memory Box Yuletide designer.   I had one sheet of this pattern left and decided to create an all white scene using the Mountain Lodge and Rustic Sign & Trees die sets.  This is so much more beautiful in person. It is really hard to get clear photos of all white images, especially with the sparkle.  You can check out my other two sparkly all white projects here and here.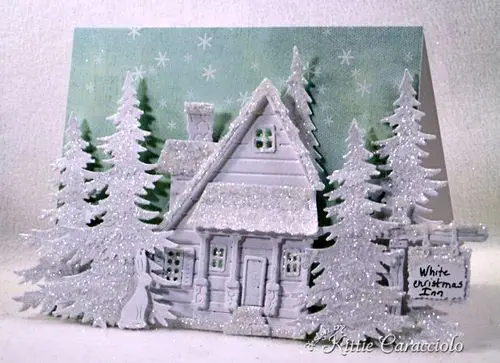 I cut all the pieces out from both die sets.  I assembled and attached all the pieces to create the lodge, applied glossy accents over the roofs, in the windows and on the porch steps and sprinkled with glitter and set aside to dry.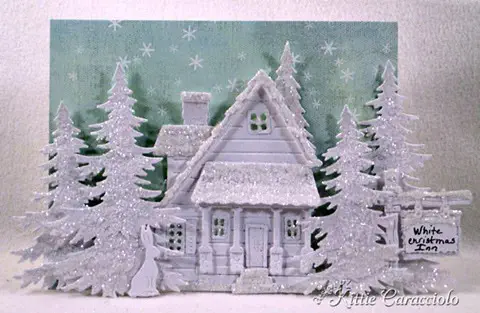 I applied glossy accents to all the trees and set aside to dry. I didn't make the same mistake that I did in my 12 Tags of Christmas tutorial.  LOL!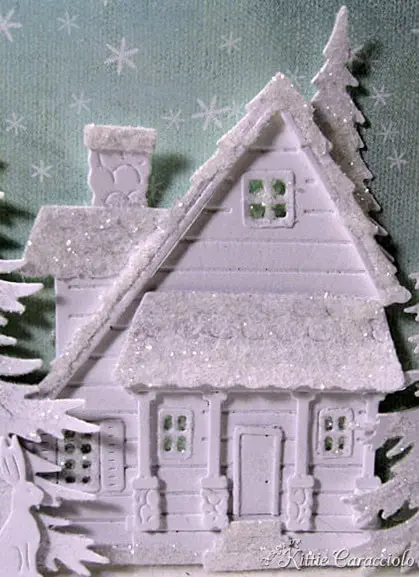 After I got everything all sparkly and dry I started assembling the scene.  I attached the lodge to the base first. I applied adhesive to the bottom with my ATG and mounting tape to the roof top.  I wanted the bottom of the house to sit flat but the roof top to stand out for dimension.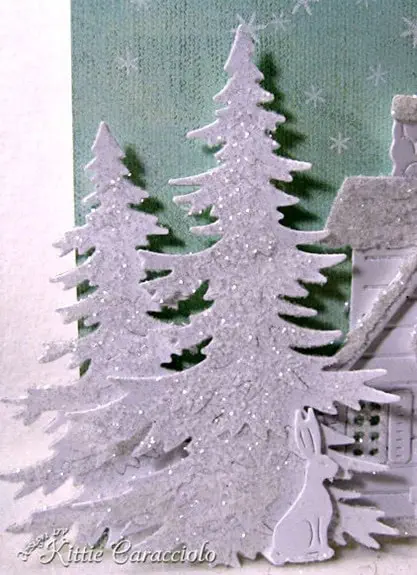 I attached the back tree on both sides of the lodge flat at the bottom with rolled glue dots at the top. The trees in front were attached with double layers of mounting tape so it could stand free in front of the back trees and the lodge. I couldn't resist putting the winter bunny in the scene although he is twice the size of the front door.  Just think of him as being way out in the forefront. LOL!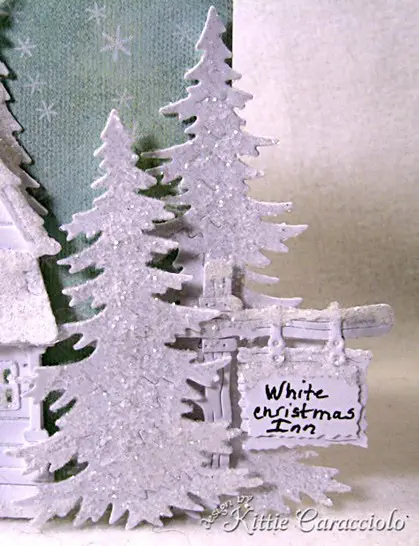 I cut down the size of the sign and posts to fit better in my scene.  I used a very fine black multiliner to write White Christmas Inn on the tiny sign.  I could hear Bing Crosby and Rosemary Clooney singing White Christmas and thought the sign was the perfect little finishing touch.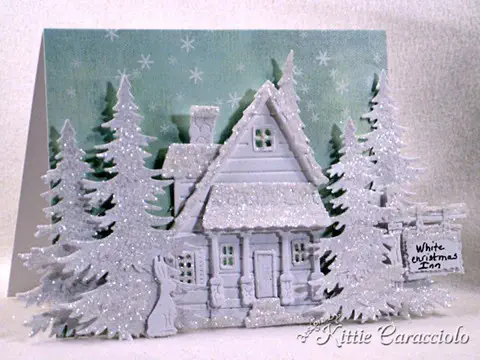 I can only dream of a White Christmas here in Florida but they are forever in my childhood memories growing up in West Virginia.  Merry Christmas Eve! 
Paper:  Memory Box Yuletide,  White,    Accessories:  Cottage Cutz Mountain Lodge, Rustic Sign & Trees, Glitter, Glossy Accents, Mounting Tape, Glue Dots, Paper Piercer, Teflon Bone Folder, Metal Adapter Plate, ATG, Big Shot, Black Multiliner, Deckle Scissors,