Good Monday morning.  I can't seem to stop making spring bunny scenes.  I think they are so happy and sweet and perfect for Easter cards. I have had this Memory Box Mansfield Frame for a long time and don't think I have ever used it.  I think it is such a perfect size to create a small scene in. I used the Impression Obsession Rabbit Set, Leafy Branch, Tiny Flowers, Leaves and Stems, Bird Set along with the My Favorite Things Fresh Cut Grass.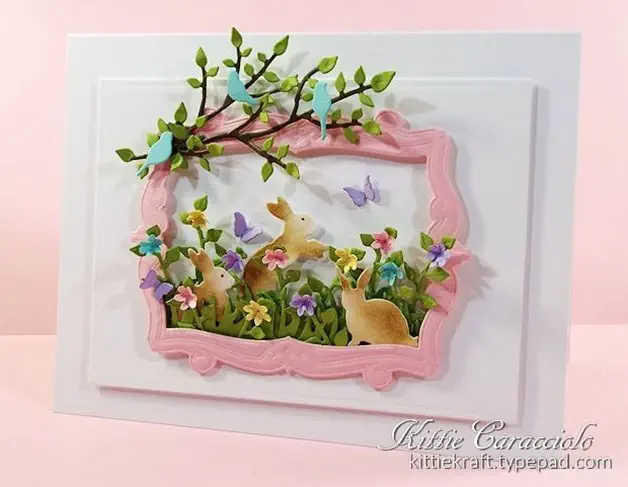 I like adding layers on the card base to add interest and dimension to my projects.  I attached the smaller base layer on the card front with mounting tape.  I attached mounting tape to the back of the frame, attached the double layer of grass to the back and then attached the frame to the base.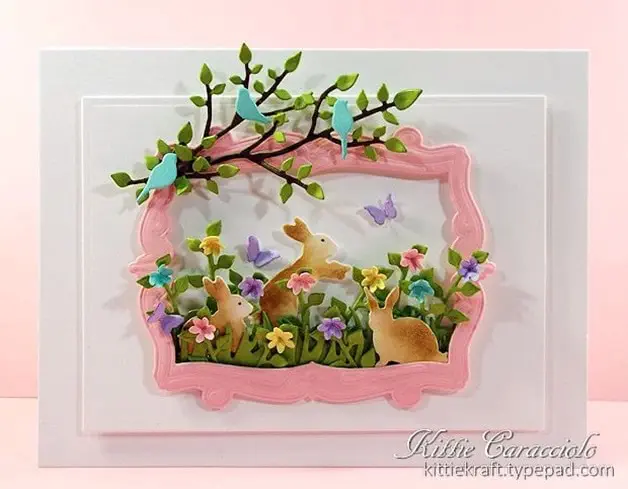 I cut the leafy branch in green and colored the branches with a brown Copic marker.  I formed the leaves and branches lightly with my stylus and molding pad and attached them to the frame with glossy accents. I attached the birds to the branches with rolled up glue dots.
I cut  the stems and colorful flowers and formed them with my stylus and molding pad.  I attached the flowers to the stems with glossy accents and then tucked them in behind the grass attaching them in place with glossy accents.
I cut the rabbits using white cardstock and then applied ink with a mini applicator to give them definition.  Aren't they adorable!  I tucked them into the scene attaching with mounting tape.  If you like to see how I color my animals you can check out my tutorial here.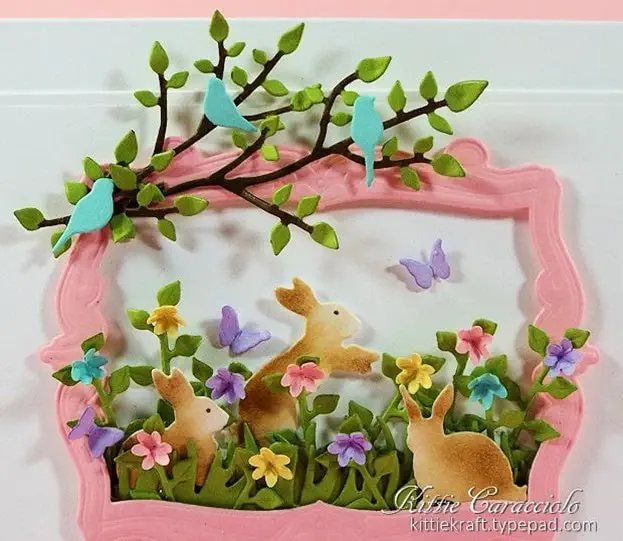 Here's a closer view.  The three tiny butterflies were attached with tiny drops of glossy accents.  They were the perfect touch to finish the scene.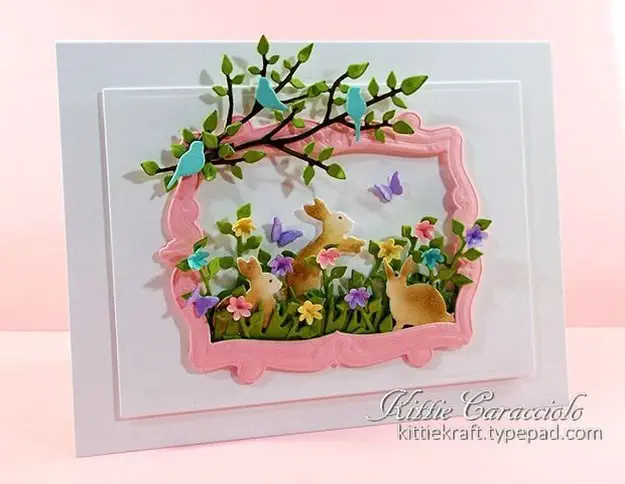 I hope you are enjoying my spring scenes. I'm sure having fun making them.  I appreciate you stopping by today and hope you have a great week.
Card size:  5.5" x 4.25"