Good Sunday morning.  I have a framed watercolor project to share with you today using my new WPlus9 Fresh Cut Florals set paired with the Impression Obsession Rabbit Set, Memory Box Butterfly Delights and Sizzix Border, Label, Medallion and Key.  I enjoyed getting my waterbrush out and creating this small watercolor scene.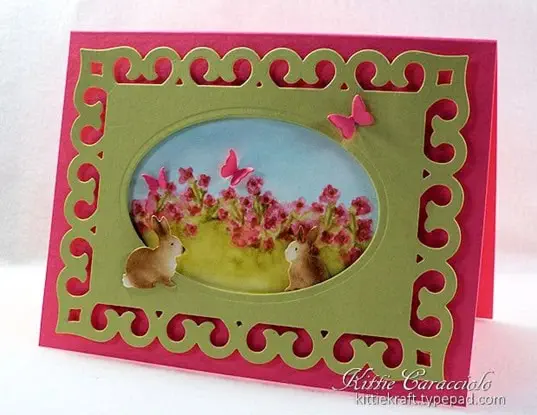 The tiny flowers and stems in the set were fun to play with using multistep stamping and layering.  I softened them by lightly touching with my damp brush. I used a green marker to lightly apply a few grass ground spots and then moved the color around with my brush. I applied both darker pink ink and green ink to an acrylic block and picked up touches of ink to lightly fill in around the flower petals and stems.  I sponged in the blue sky and then moved the color around a little with my brush.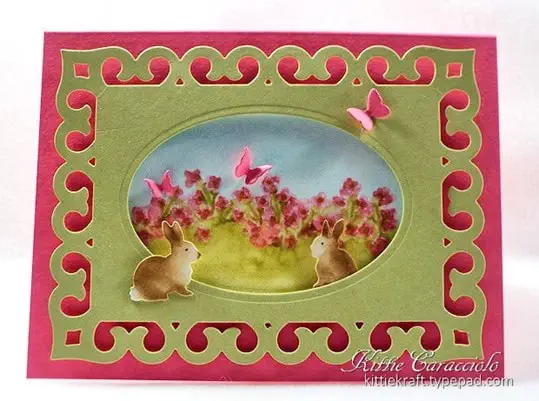 I cut the frame, attached mounting tape to the back and then placed it over the scene.  I like having the little distance between the frame opening and scene.  I think it adds an element of dimension and interest. I applied adhesive to the back of the scene and attached to the card base.
I cut the bunnies using white cardstock and applied color with brown ink and a mini applicator.  Check out my step by step tutorial on coloring die cut animals if you would like to see how I applied ink to the bunnies. I attached the bunnies on the frame and scene layer with small pieces of mounting tape.  I added a few butterflies to bring one more element of the dark pink for the perfect finishing touch.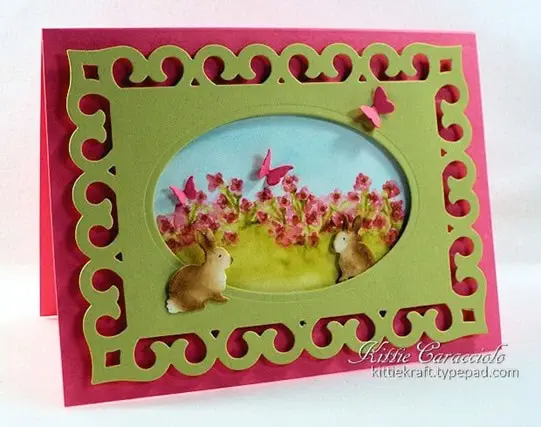 Thanks for stopping by today and I hope you have a wonderful Sunday.
Card size:  5.50" x 4.25"