Good Sunday morning.  My project today was created for the Splitcoaststampers Inspiration Challenge. The inspiration site was an Etsy store called Color Watercolor. There were lots of different animal paintings but I was especially inspired by all the deer.  I don't know how many times I have created similar scenes with the Deer Trio die set but I just love them.  I think they are so graceful and elegant and yet so perfect for a masculine card. 
I used two images from the WPlu9 Coming Up Roses set to create the forest background and ground area.  I took a photo of the small branch and small dotted leaf pattern stamps to show you.  They are each only an inch long but are perfect to create a lush background. I started by sponging in a green ground area for the main background scene as well as a piece of scrap paper to cut for the front ground piece.  I stamped the branch several times across the background and then filled in with the leaf stamp to create the appearance of a forest. I cut across the scrap paper with my deckle scissors to create the front ground piece.  I finished the background by sponging in a blue sky using a hand cut cloud template and ink blending tool.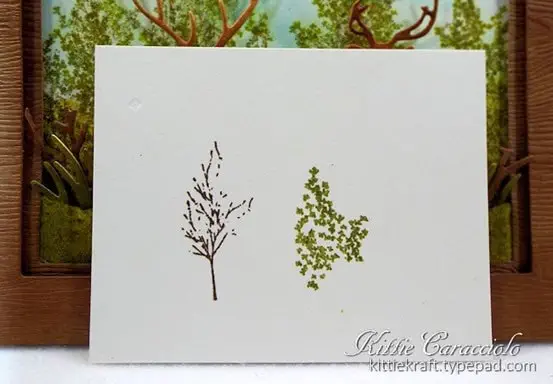 I cut the deer and applied and blended the ink using a mini applicator.  Have you tried these yet?  I love them.  I added a few white dots to the baby deer with a white marker.  I cut a Bare Branch and Grass Border to use to add some growth around the feet of the deer.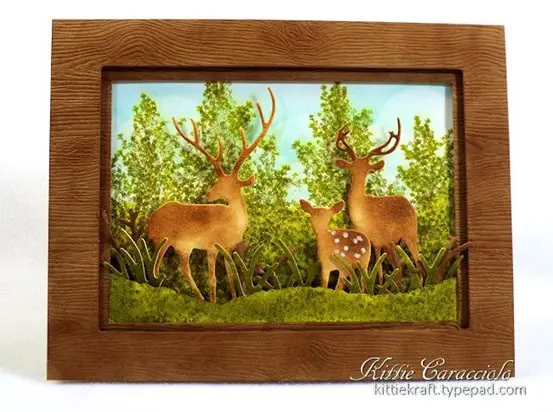 I cut the double matted frame from Ellen's Tan Woodgrain Embossed cardstock and sponged it with brown ink to add more depth.  This is wonderful cardstock to add the feel of wood to your project.  I also have the White Woodgrain Embossed cardstock. It's really pretty as well.  I attached the two frames together with thin strips of mounting tape.  I applied ATG adhesive to the back of the smaller frame, attached the grass section and then attached it over the scene with another layer of mounting tape.  I attached the momma deer in the scene with one layer of mounting tape and attached the daddy and baby with a double layer of tape.  I finished by tucking the bare branch pieces and grass around the feet of the deer with glossy accents. 
Thanks for stopping by and I hope you enjoy your Sunday.
Card size:  5.50" x 4.25"