Good Saturday morning.  My project today is what I would refer to as an over-the-top Christmas scene with the large tree, garland across the top and of course a few cats.  LOL!  One of my Splitcoaststampers community friends asked for help and a tutorial on how to make a Christmas tree using the Martha Stewart Branch Punch so I took a few photos while I made my tree this morning.  I love making a tree with the Impression Obsession Bare Christmas Tree for the base but today I just cut a tree shaped base to apply the branches to.  Please note that you can make a tree with any of your punched or die cut evergreen branches.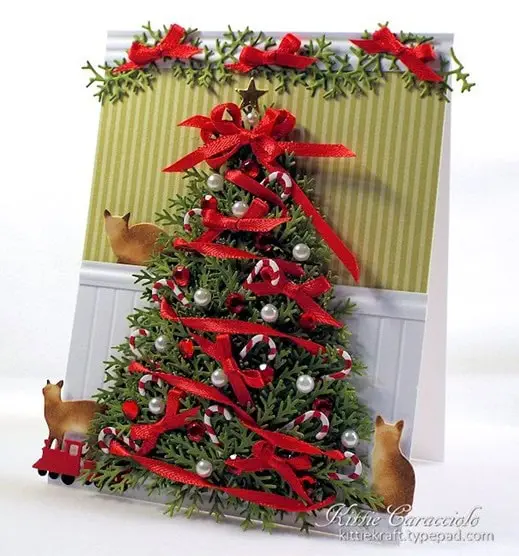 I cut the tree base 4 inches tall and 2.75 inches wide. I marked the top of the cardstock with my pencil and cut the sides off with my paper trimmer. I attached all the branches to the base using glossy accents.
I started by placing the first branch in the top center of the tree.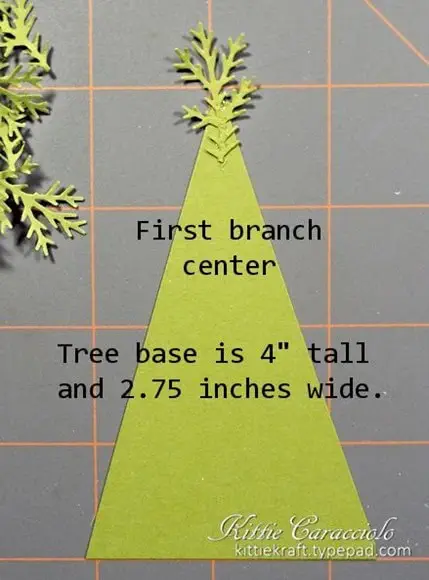 For the second row I attached one branch to the left of center and one to the right of center.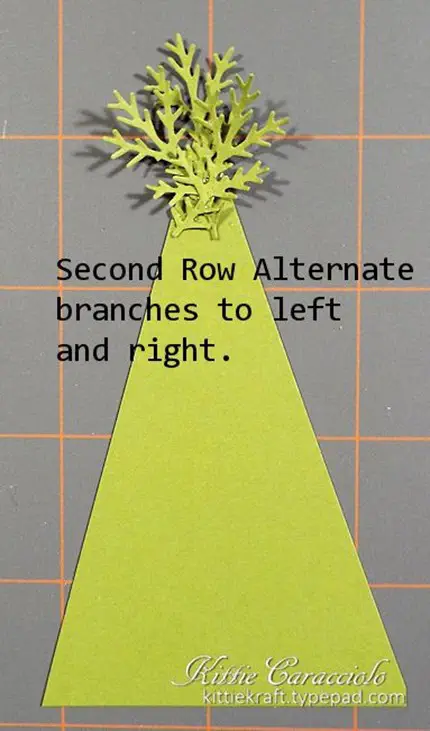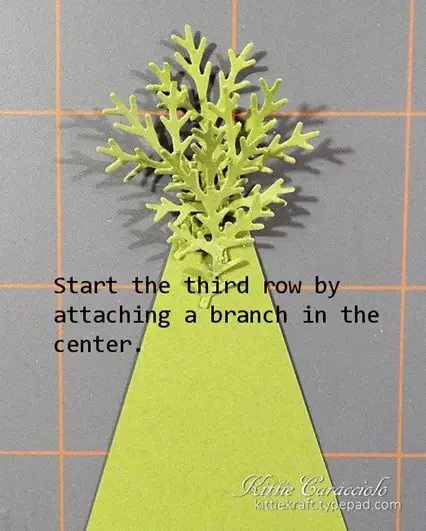 Continue the pattern of center, left right until the base widens.  You will then need to apply two left and two right.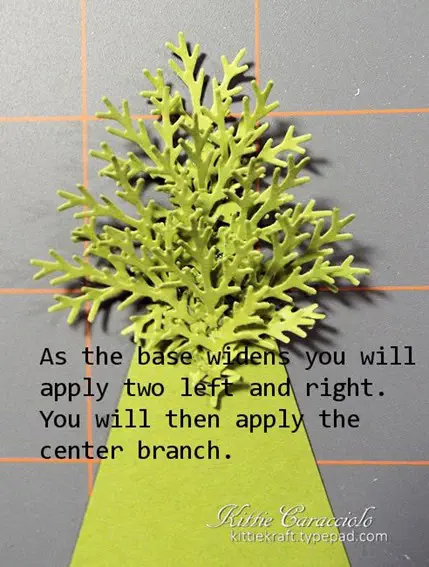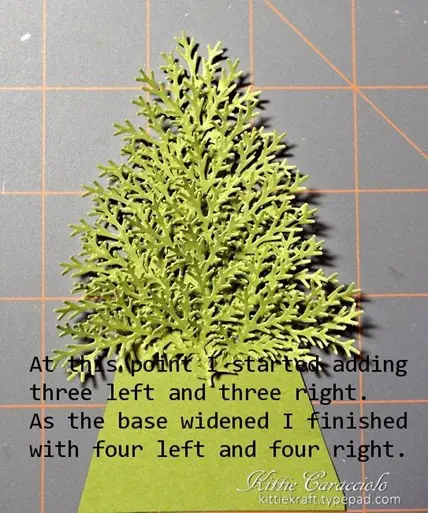 As the base widened I started adding three left and three right.  The final rows at the bottom were four left and four right.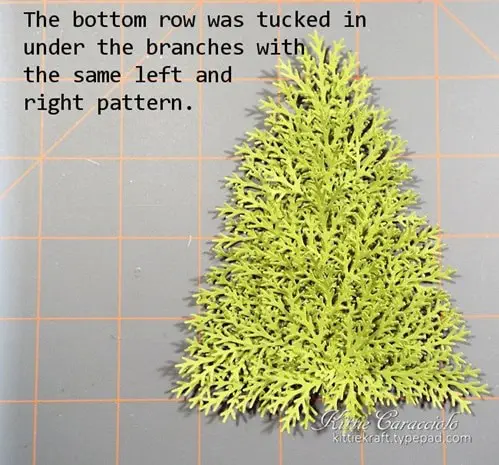 I attached the final row of branches to the bottom of the tree base by tucking them in under the second to the last row of branches.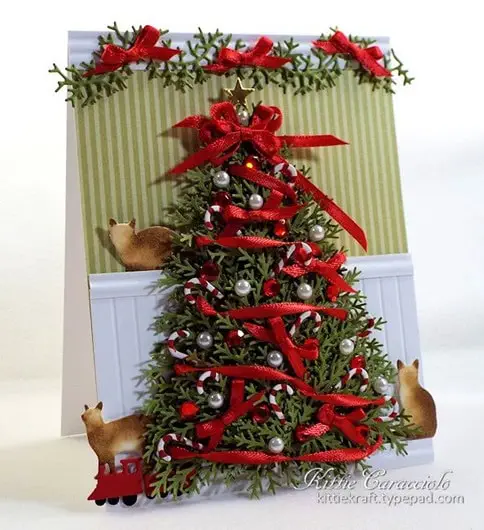 Before I started to dress the tree I lightly bent the lower sides back to curve out the center of the tree slightly. I decorated my tree with ribbon garland, tiny bows, candy canes and lots of red bling and white pearls. I love placing a gold star at the top of the tree and finishing it with a small multi loop bow.  When I was finished decorating the tree I attached it to the card base using double layers of mounting tape on the lower center  and a single layer of mounting tape on the lower sides and the top.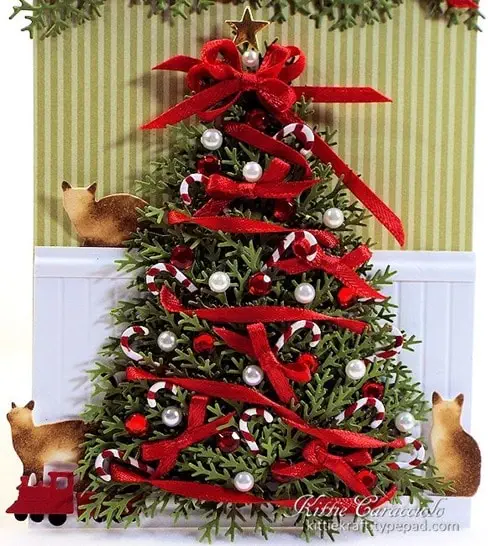 Here's a closer view of the finished tree.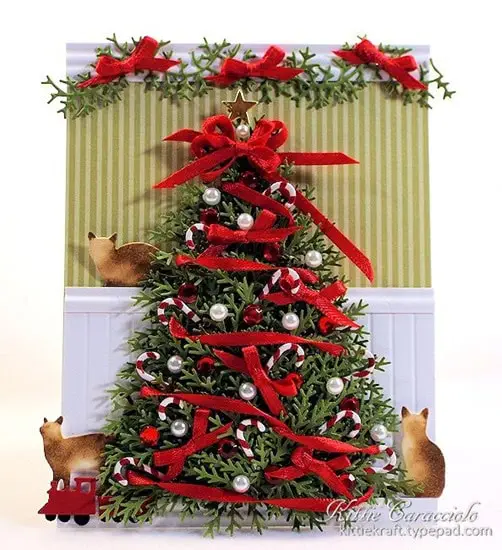 When I got the tree, train and cats attached to the card base I felt the card looked really bottom heavy.  I decided to add a piece of white crimped cardstock molding across the top and finish with an evergreen garland and bows.  Thus….the over-the-top finished card.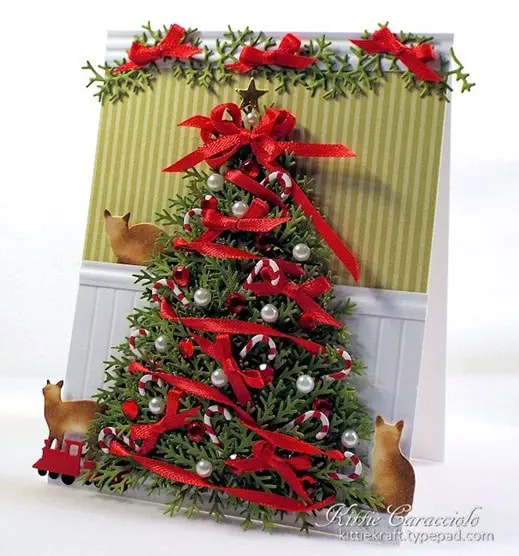 I'm sorry I haven't posted as often as usual this past couple of weeks.  I have been experiencing neck and shoulder pain from muscle spasms.  Well….you know what they say about getting old.  LOL! I'm on the mend and hope to be back at my regular card making and blog posting pace.
Thanks for coming by and I hope you have a wonderful weekend. 
Card size:  5.50" x 4.25"  Red ribbon is Offrey 1/8" from Michaels