Good Saturday afternoon.  I'm sorry I've missed posting for a couple of days and am happy to be back posting today.  My project is a flower garden scene with a pretty border, fence and lots of butterflies.  I made this as a reminder that spring is not so far away for those of you living in the cold and snowy parts of the country. The pretty borders are made using Marianne Designs Anja's Flowers.  I paired it with Impression Obsession Bunch of Blossoms, Butterfly Set, Tiny Flowers and Large Fence.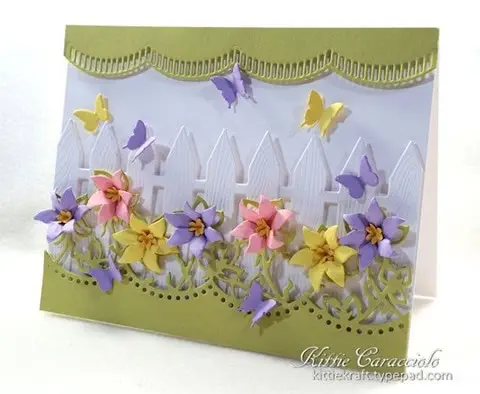 I started by cutting the flower border and top border.  I cut flowers in pink, lavender and yellow, formed them with my stylus and molding pad and attached them over the borders flowers with glossy accents.  I filled each flower with a tiny apricot flower center to add a little more realistic appearance.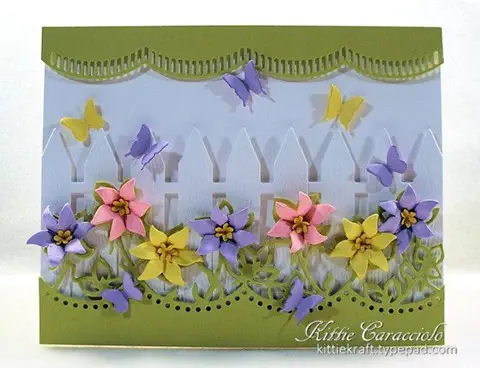 I cut 2 fence sections and attached them together to fit all the way across the card front. I attached small pieces of mounting tape to the top of a few pickets so they would stand away from the card base, applied ATG adhesive to the bottom of the fence so it would lay flat behind the flower border base and then attached it to the card base.  I applied mounting tape to the top border so it would stand out above the fence.  I finished by adding several butterflies to the scene to add another element of dimension and to help draw the eye up and also to fill in some of the blank white space.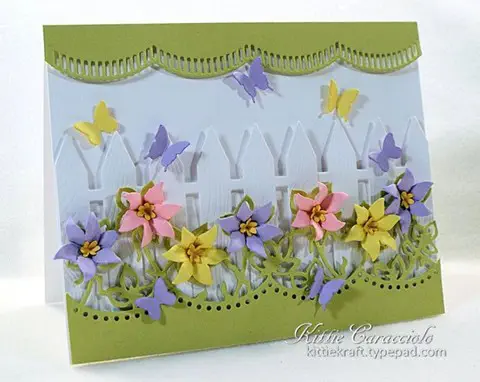 Thanks for stopping by and I hope you are enjoying a wonderful and relaxing Saturday.
Card size:  5.50" x 4.25"