Good Sunday morning.  One of my favorites of the daily challenges over at Splitcoaststampers is the Inspiration Challenge.  This week our challenge site was a Stampscapes Gallery on Flickr.  I almost went into inspiration overload as I browsed through all the wonderful selections but finally settled on the Snowy Red Barn scene.  I instantly thought of the old barn that I drew years ago for my Kittie Kits Farm Life  set.  I couldn't resist creating another snowy scene pairing the old barn with the Impression Obsession Tree Frame, Wide Tree  and Fir Tree.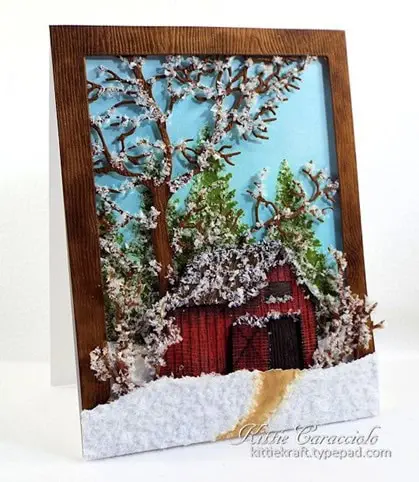 I cut the tree frame, wide tree and outer frame out of Ellen Essentials tan woodgrain embossed cardstock and applied vintage photo ink with my Color Box stylus and foam tip. I stamped the barn on the same woodgrain cardstock using black versafine ink, heat set it and colored it with my waterbrush and fired brick, aged mahogany and black soot distress reinkers. I hand cut the front ground snow piece with deckle scissors and sponged a small brown pathway  using antique linen with a mini applicator. I applied glossy accents to the tree branches, barn, ground snow and ground branches and applied polar white flower soft.  I applied peeled paint ink to the fir tree, misted with my mini mister and stamped on the card base.  I sponged tumbled glass ink in the sky area with my ink blending tool and then applied a light coating of glossy accents and sprinkled with flower soft..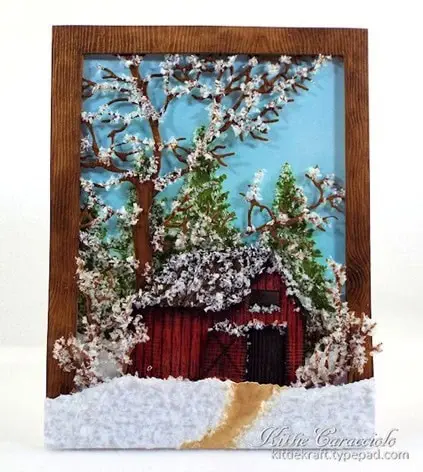 I attached the tree frame to the back of the frame using 1/4" double stick tape and then applied thin strips of mounting tape to the back of the frame, tree trunk and limbs and attached over the tree scene on the card base. I attached the front ground piece directly to the front of the frame with double stick tape.  I tucked the barn in behind the ground snow and attached with double stick tape. I finished by inserting a few snowy branches cut from the wide tree on both sides of the barn to add additional dimension and interest.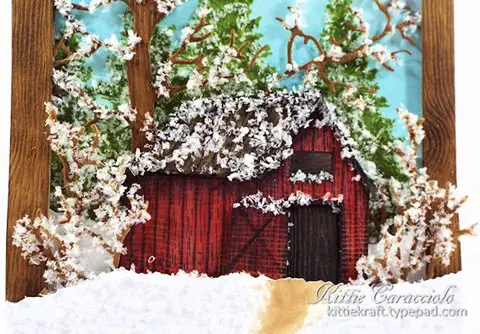 Here's a closer view of the barn and snowy branches.  I failed to mention above that I cut the barn door of the front of the barn and attached it to the opening with rolled double stick tape.  I applied black soot ink to a piece of scrap woodgrain cardstock and attached it to the back of the barn to fill ink the opening.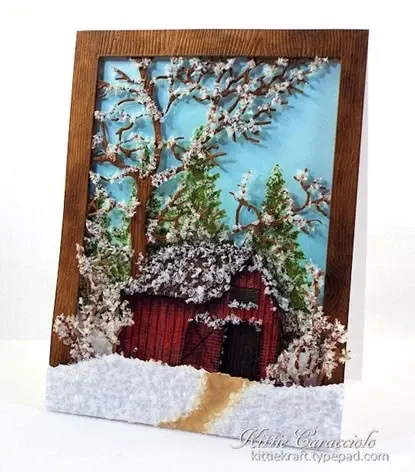 You can see a summer version of a barn scene on my Barn Scene tutorial complete with hand a sketched tree, masking and sponging techniques and lots of die cut flowers and foliage.. 
Thanks for coming by today and I hope you have a relaxing Sunday.
Card size:  5.50" x 4.25"
note:  I'm sorry I couldn't post a link or picture to the Rubbernecker Kittie Kits Farm Life set because the site is closed due to moving.