Good Friday evening.  When I saw the Taylored Expressions Garden Arbor and Gate set and Arbor Accessories set I knew I had to have them.  My project today pairs them with the Impression Obsession Grass Border and Memory Box Butterfly Delights with a pretty floral and butterfly background from the Penny Black Beau Jardin paper pad.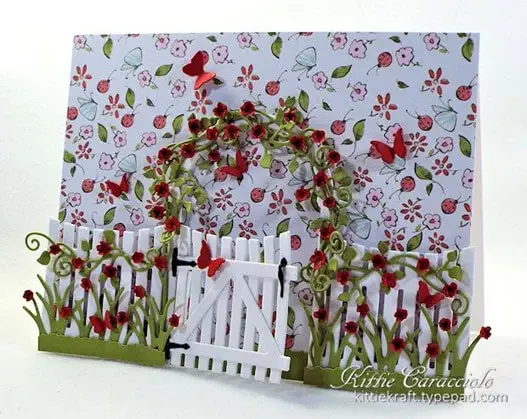 I started by cutting the arbor pieces and additional fence sections and assembled with glossy accents. I left the fence gate free on the handle side so I could let it remain in an open position. Thin strips of mounting tape was placed on the back of the arbor and fence sections and then it was attached to the card base.
One layer of the vine was attached to the arbor with glossy accents.  A second vine was cut into a couple sections and attached over the first layer to create a fuller foliage arrangement on the arch section.  I applied glossy accents to the back of the grass border and attached them to the side fence sections. I covered the base of the grass borders with section of green cardstock that I cut with my deckle scissors. I continued the grass by attaching a thin strip to the card base behind the open gate. Another vine was cut into pieces and was attached to the top rail sections of the fence.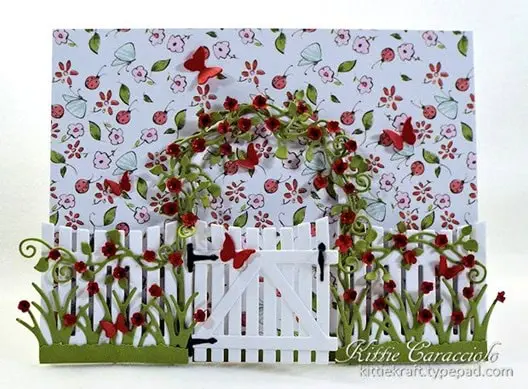 I cut several sets of the tiny flowers from the accessory set, formed them with my tiny tipped stylus and molding pad.  I attached them randomly along the arbor and fence foliage and on the grass border.  Butterflies were added for the finishing touch.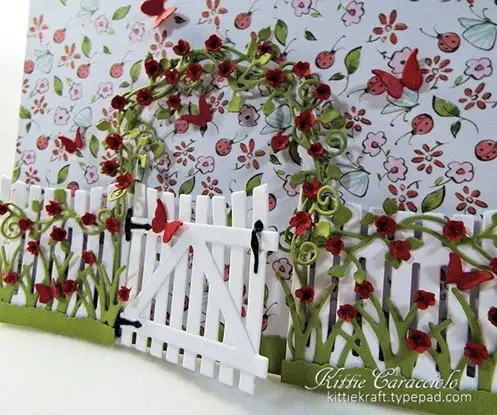 Here's a closer view of the open gate.  I secured it in the open position by attaching a double layer of mounting tape on the last section closest to the left side. If you look closely you can see that I bowed the black fence handle and attached it with a dot of glossy accents at the top and bottom. It looks just like the one on our backyard fence.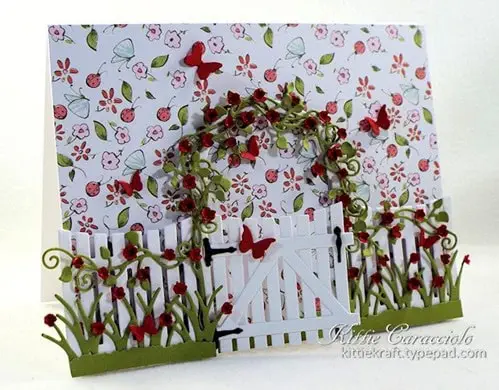 Thanks for stopping by and I sure hope you have a wonderful Easter weekend.
Card size:  5.50" x 4.25"