Good Thursday morning and welcome to the Impression Obsession Design Team "You Did It" challenge.  I gave this challenge theme lots of thought and finally decided to use the title as the sentiment for my card. I thought it would be fun to create a card for a boy or girl to celebrate a "big deal" occasion like pitching a no hitter, getting an A on a science project or making the basketball team or cheerleader squad.  
I love the whimsical  Plane with Banner die set and how cute it is to display the sentiment on the banner.  I paired it with the Alphabet Plain UC,  Fir Tree Border, Fir Sprig set, Clouds Set and Rectangle 6-in-1 Frames.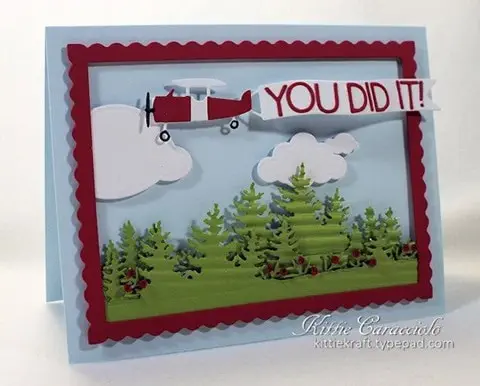 I cut the plane in red and again in white so I could mix and match the design.  I cut the roof and wheels off the red plane and attached it over the white plane base with glossy accents.  I colored the propeller and wheels with a black Copic marker.  I cut the door section of the plane out again in white and attached to break up the solid red of the plane body.  I attached the letters to the banner with crafter's pick glue.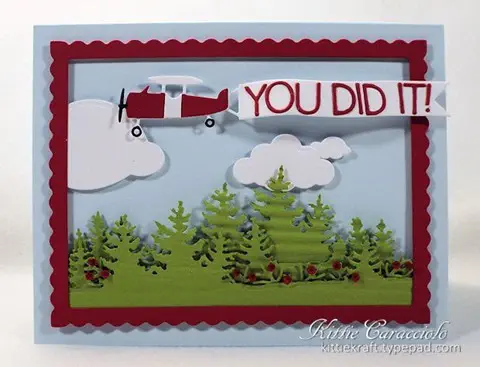 I cut two sections of the tree border, cut them apart, crimped them and pieced them together with double stick tape and attached to the back of the frame with double stick tape.  I applied mounting tape to the back of the frame and attached to the card base.  The clouds, plane and banner were also attached to the base using mounting tape. For the finishing touch I wanted to add another element of red to the scene so  I tucked several fir sprigs with tiny flowers in behind the tree border and attached with glossy accents.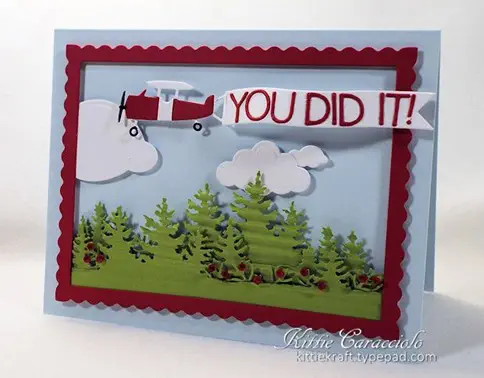 Why don't you come along and play with us. To enter the challenge go to the Impression Obsession Blog (all the details are there!). A random challenge card will be selected to showcase on the IO blog and you can to enter to win a $25 gift certificate to IO just by playing! I hope you will go check out what the other IO teams members created for the challenge. Thanks for coming by today..
Kittie Caracciolo  (that's me)
Card size:  5.50" x 4.25"