Good Saturday morning.  My project today was made for the Splitcoaststampers "Inspiration Within"  Inspiration Challenge.  Usually the challenge involves us finding inspiration from a designated online site like Pinterest, a store site of some, etc.  But today our challenge was to look back at our own blog or gallery posts and pick out one of our projects.  I was inspired by a card I made a couple of weeks ago with a beautiful designer paper with a black background and a riot of colorful flowers.  I used the same paper today but changed up my scene to include a smaller fence than my original card and with the addition of a double window with flower boxes filled with flowers that match the colors in the paper.  The windows, window boxes and flowers are from the Poppystamps Small Madison Window set, and I paired them with the Impression Obsession Picket Fence, Cat Set , Leaves and Stems and Grass Border.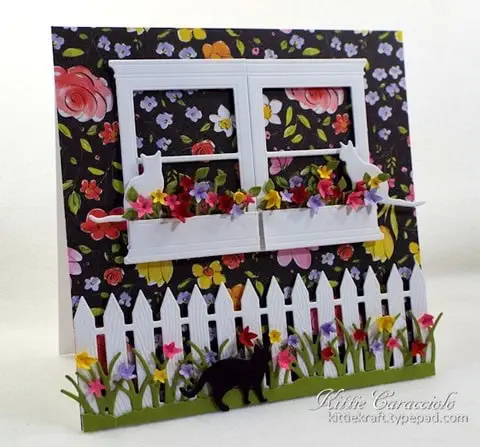 I love the whimsical feel to this card with all the different elements and colors. I thought it would be fun to create a double window and flower boxes.  I cut the inner edge of both windows off and adhered them together with double stick tape.  I applied mounting tape to the back of the windows and fence and attached them to the card base.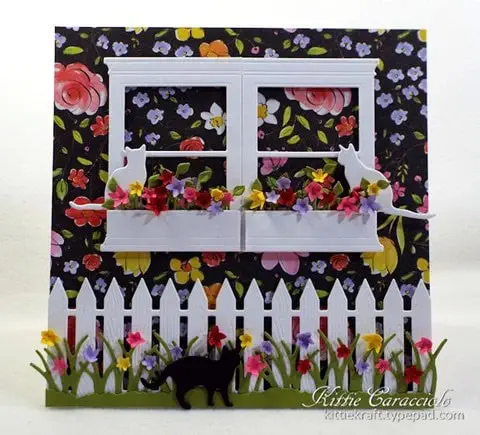 I cut the inner side of each flower box off so they would fit together on the windows.  I applied double stick tape to the back of the boxes and used it to attached the foliage.  I formed all the tiny flowers and attached to the stems with glossy accents. I applied mounting tape to the back of the boxes and attached them to the window. I attached the grass and tiny flowers directly to the fence with glossy accents.  I originally intended to add lots of butterflies but decided to add the cats.  I liked the white cats in the window for contrast against the black background and the black cat against the white fence.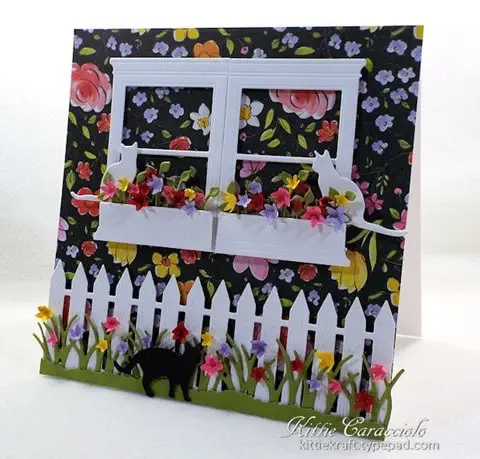 Here's the card that inspired my project.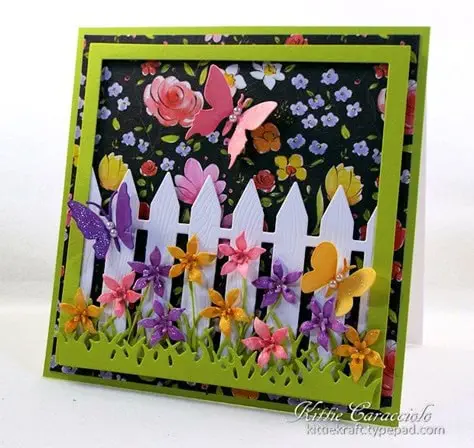 I wanted to celebrate the Easter holiday weekend by offering the retired Poppystamps Madison House Set as a blog candy gift.  All you need to do to qualify is leave a comment on my blog telling me what your favorite new die set is.  You will have until 5:00 pm on Friday, April 10th to comment to be included in the random drawing.  Good luck!!!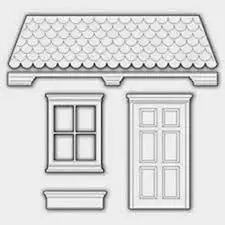 Poppystamps Madison House Set
Thanks for stopping by and I hope you have a wonderful day.
Card size:  5.25" Square