Good Sunday morning.  I am hosting the Splitcoaststampers Featured Stamper Challenge this week and am so happy to be featuring Lizzie Walker as our featured artist.  You may know her as Veritycards on SCS or her Veritycards blog.  If you aren't familiar with Lizzie's gorgeous work then you need to be sure and check out her SCS gallery and blog.  I was inspired by several of Lizzie's cards and finally settled on combining features from two of them for my project.  I loved the fancy white frame on her My Thoughts card and the framed birdhouse scene on her Home Sweet Home.  Here's what I came up with.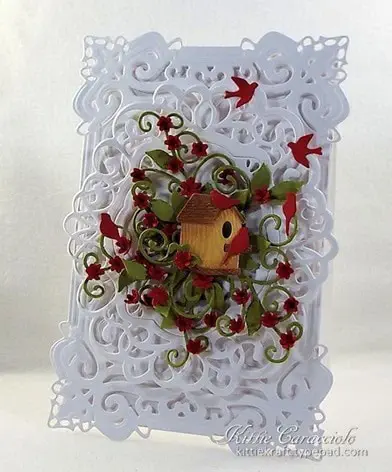 I double layered two Creative Expressions Granada and Stockholm dies to create an intricate background for the scene. They were attached to the card base with mounting tape. The vines were cut into smaller sections to fit the card front and tiny red flowers were attached with glossy accents.  The birdhouse was cut using white Woodgrain Embossed cardstock and colored with scattered straw and vintage photo ink using mini applicators.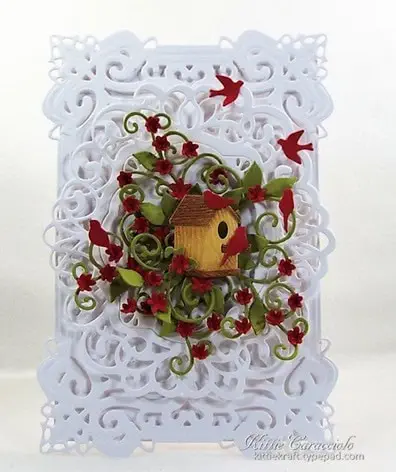 The fines were attached to the card base with glossy accents and the birdhouse was attached with a double layer of mounting tape.  All the tiny red birds were attached for the finishing touch.  Red and green is one of my favorite color combinations to use and I especially love how the white background makes the colors pop.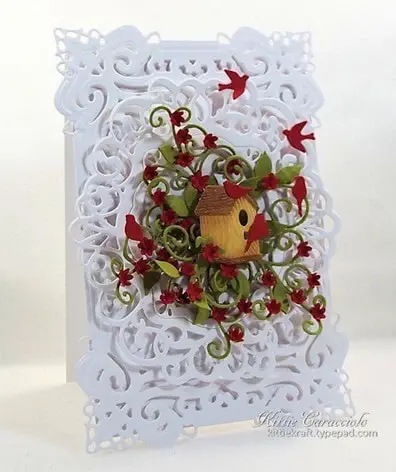 Thank you for coming by and I hope you have a wonderful Sunday.
Card size:  6.00" x 4.00"