Good Monday morning.  I'm not sure if I could choose purple and green as my favorite color combination over red and green but it is a pretty close tie.  There is just something so crisp and clean with the two colors popped against an all white background.  My project today was made using the Taylored Expressions Lattice Cutting Plate, Arbor Accessories, Impression Obsession Bunch of Blossoms and Butterfly Set.  The frame was cut using Nesting Card Templates.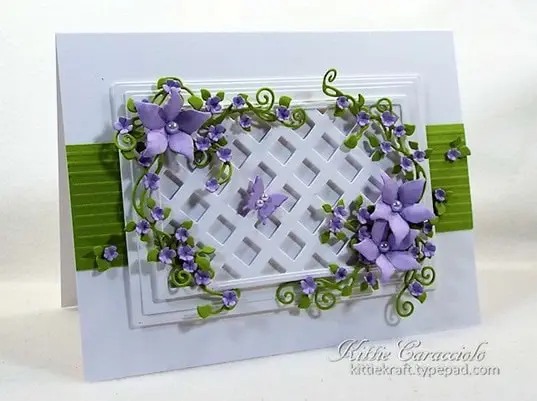 I started by cutting a section of the lattice cutting plate die and attaching it to the frame with double stick tape.  I then attached the frame to the first layer of cardstock with strips of mounting tape and then attached both sections to the third layer with ATG adhesive. I scored the green layer  every 1/8"with my Scor-Pal to create interest and attached it to the card base.  The layered frame was attached to the card base with mounting tape.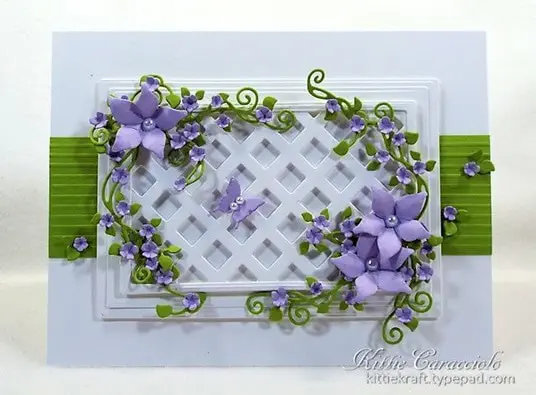 I cut several sections of the arbor vine and flowers along with three of the larger flowers.  I cut the vines apart into a couple of sections each so I could surround the frame with it.  I attached the tiny flowers to the vines with glossy accents and then attached each section to the frame with glossy accents. The three larger flowers were attached with glossy accents and then I added a few small sections of vine around them to fill in for a more natural look.  I applied glossy accents to the butterfly in preparation to attach it to the lattice and promptly dropped it on the top right side of the green layer and blobbed glossy accents on it.  Ugh!  I hate when that happens as glossy accents leaves a shine.  I decided to cover up the boo boo with a tiny flower and leaves and then added two more to make it look like I planned it.  LOL!  I guess you could call it a happy mistake. The butterfly was attached securely and then I added pearls to it and the center of the large flowers for the finishing touch.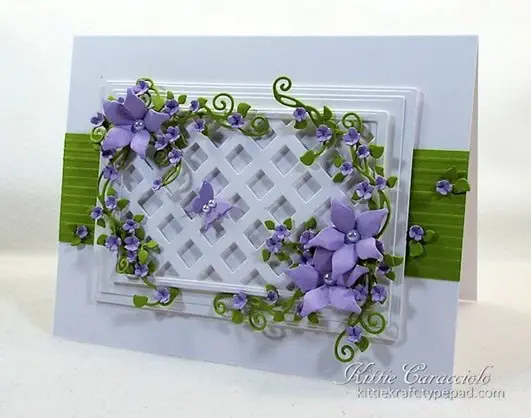 I just love the Arbor Accessories set with the vines and tiny flowers.  The vines are so graceful and don't have to be used only with the Garden Arbor set.  I thought they would be perfect with the lattice frame. 
Thanks for stopping by and I hope you have a great week.
Card size:  5.50" x  4.25"