Good Monday morning.  Fall is not in the air here in Florida and it is hot, hot hot!  But I couldn't resist pulling out some of my fall dies to make a simple white framed falling leaves scene.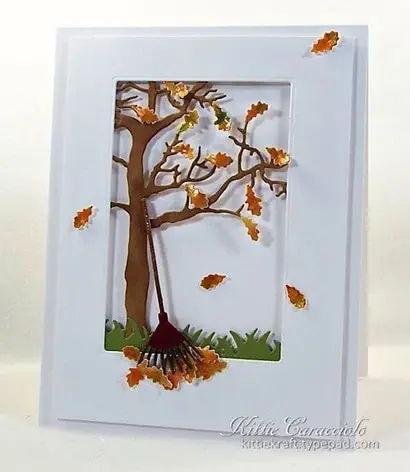 I cut the tree using kraft cardstock, applied brown ink and attached it along with the grass to the back of the white frame.  The frame was attached to the card base with mounting tape.  The rake was colored with markers and then I applied versa and embossed with clear embossing powder to add a little shine.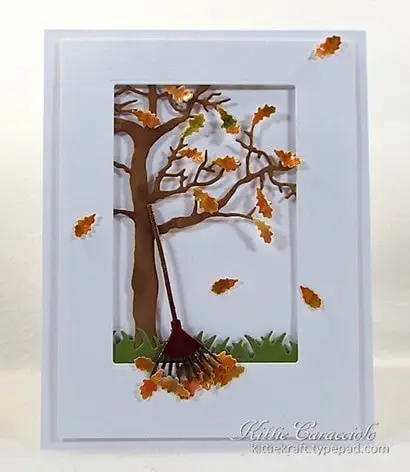 I applied green, orange, rust and red ink to a small piece of cardstock using mini applicators, mixing the inks to create variegated colors for the leaves.  I applied versa and embossed the whole piece of cardstock with clear embossing powder and heated.  I cut out a couple sections of leaves, formed then lightly with my stylus and molding pad and attached to the tree branches and ground area.  I attached the rake with glue dots and attached a few leaves around the base of the rake.  I liked having them popped out on the white frame.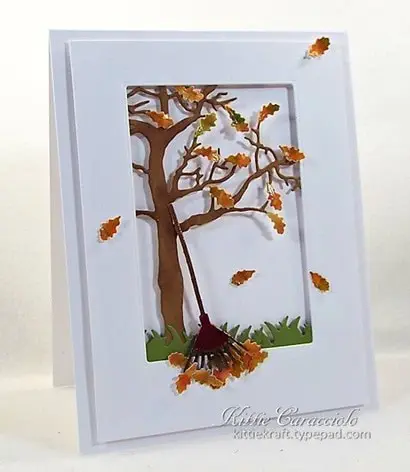 Thanks for stopping by and I hope you have a great week.
Card size:  5.50" 4.25"