Good Thursday morning.  My project today is a garden scene that I hand sketched and watercolored using distress markers and ink pads and water brushes.  It has been a long time since set my dies aside and played with sketching and watercolors and it was such fun.  But as you can see I couldn't resist adding a few tiny butterflies to add a touch of dimension.  LOL!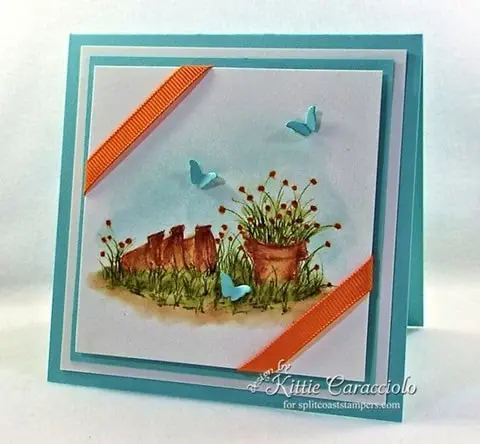 I sketched out the basic lines for the flower pots using a Rusty Hinge marker.  I didn't draw lines on the bottom portion of the pots so I could fill them in with grass.  I used my damp waterbrush to lightly touch on the sketched lines to pull the color out into the pots.   I tried to be careful not to totally wash out the lines.  I used the brush end of the marker to add a darker shade of color to parts of the pots and then lightly dabbed with my damp brush.  Once the pots were dry I went back and sketched in a few lines that were too washed out.
I sketched in the grass sprigs all around the pots using a Peeled Paint marker and used the same technique of lightly touching the lines with the damp brush to pull color out to fill in the ground area.  I used a mini applicator to lightly sponge brown Vintage Photo ink around the grass and then used the waterbrush to soften and pull the color out around the base of the scene.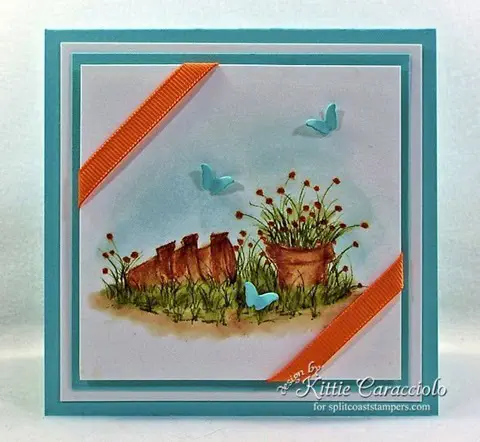 I added light shading in the sky area using a Color Box stylus and foam tip and Tumbled Glass ink and then washed it lightly with my waterbrush. Once the blue area was dry I sketched in the wildflowers stems in the standing pot and around the stack of fallen pots. I added the tiny flowers using the brush tip of my Wild Honey marker.  I added the orange grosgrain ribbon to frame the scene and the three tiny butterflies for the finishing touch.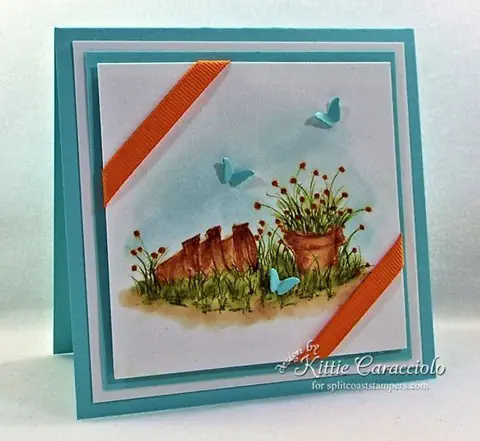 I used Hot Pressed Fabriano Artistico Extra White 140 lb. watercolor paper for my project. This hot pressed paper is very smooth and easy to work with. Although the title says it is extra white it is not pure white.  If you enjoy water coloring your stamped or sketched images you may want to give this paper a try.  It is a bit pricey but I promise you will not be disappointed. Cheap watercolor paper will not give you nearly as good an outcome as really good paper.  Not all watercolor paper is created equal.
Thanks for coming by and I hope you have a great day.
Card size:  4.00" square