Good Saturday afternoon.  I got a late start this morning but had fun making this witchy Halloween card.  I just received the Authentique Moonlit Bundle Collection and couldn't wait to use it on a project.  It's hard to believe that we are well into September with fall on it's way.  It always seems to me that Labor Day weekend marks the beginning of fall and the countdown to the holidays.  My project today was made using the Impression Obsession Witch Brewing, Halloween Set, Wide Tree and was paired with the Memory Box Grand Forest Archway and framed using the Nesting Card Templates.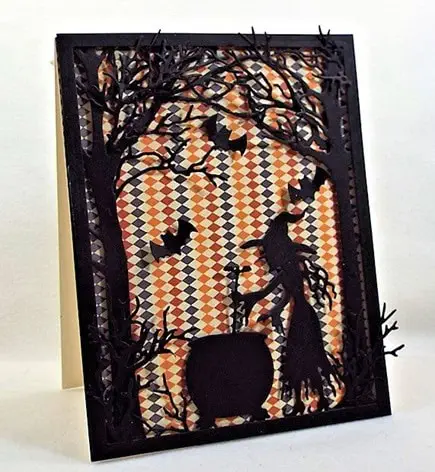 I cut the tree archway and attached it to the back of the frame using double stick tape.  I then applied thin strips of mounting tape to the back of the frame and tree trunks and attached to the card base. The witch and cauldron were attached in place with pieces of mounting tape.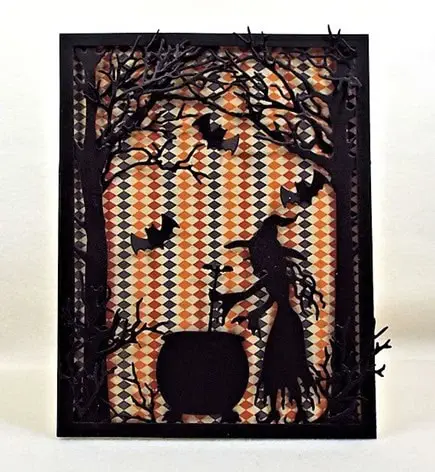 I cut two or three sections of the wide tree, cut them apart and attached them around the tree tops and trunks with glossy accents.  I thought those twiggy branches added more spook to the scene.  The three bats were attached in the scene with glossy accents for the finishing touch.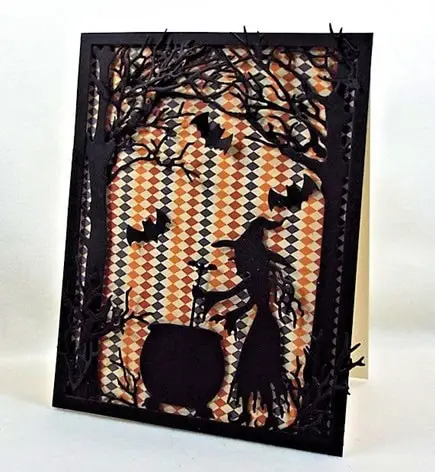 Thanks for stopping by today and I hope you have a wonderful holiday weekend.  Three days off work.  Woo Hoo!
Card size:  5.50" x 4.25"