Good Sunday morning. My project today was made for the October Challenge Chicks challenge to create a project using the 3-2-1 rules:  3 layers, 2 embellishments and 1 sentiment. And an extra twist for the challenge was to use pink.  A new challenge will be posted every month and we would love for you to join us! No stress, no deadlines… just lots of fun!  Please play along with us and link your projects on The Challenge Chicks Community Facebook page. Use keyword CHXOCT15 for your Splitcoaststampers gallery upload.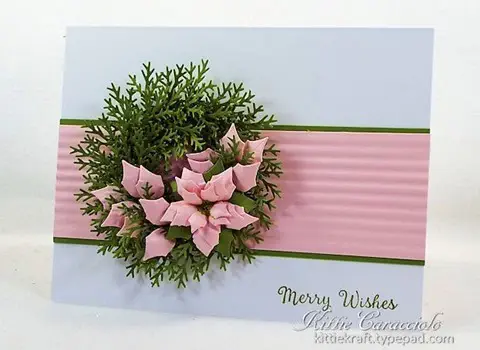 OK.  I have to admit that I may have gone a little overboard with my project.  I consider the white card base as one layer and the green and pink as layers two and three.  My wreath is one embellishment and my poinsettia and poinsettia petals are the second embellishment.  That's my story and I'm sticking to it!  LOL! I hope I don't go to Challenge Chick jail.
I created the wreath by cutting a circular base using two Spellbinders Classic Circles.  I covered the wreath base with branches and attached with glossy accents.  You can check out my step by step wreath tutorials here, here and here if you would like to see how I make my wreaths. I created one full poinsettia using the newly released Impression Obsession Small Poinsettia Set.  I molded the petals with my stylus and molding pad, assembled and attached to the wreath.  I applied glossy accents to the flower center and filled it with Sage Ultra Fine Flower Soft.  I cut a few of the petal layers apart and inserted them around the main flower to fill in and add interest to the wreath.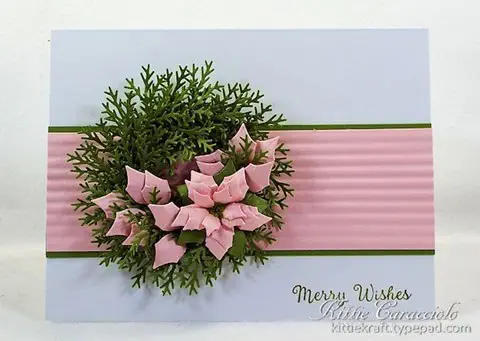 I attached the crimped pink and green layers to the card base using ATG adhesive.  The Merry Wishes sentiment was stamped with Peeled Paint distress ink. I applied glossy accents to the back of the wreath and attached to the card base. I used my paper piercer to go around and fluff up the branches to fill in for a natural look.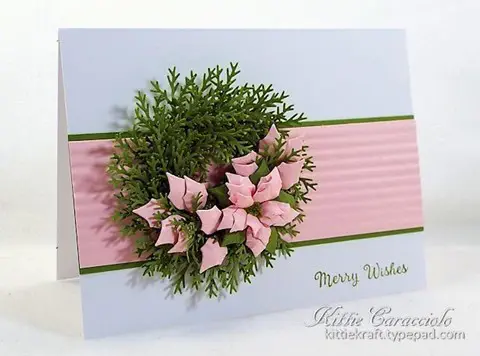 Thanks for coming by today and I hope you will enjoy going to see what our other Challenge Chicks have created.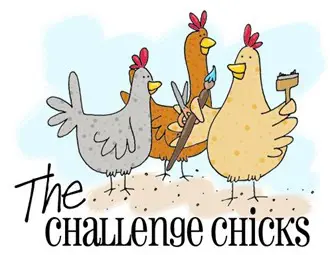 Anna Wight
Bev Gerard
Deb Felts
Lydia Fiedler
Kelly Schirmer
Kittie Caracciolo (that's me)
Jeanne Streiff
Vicki Garrett