Good Saturday morning. I love making poinsettia holiday cards and my project today was made using the newly released Impression Obsession Small Poinsettia Set paired with the Holly Flourish,  Pine Pair and All-in-One Frames Rectangles 2. If I had this project to do over again I would have added a larger layer or two of petals from the newly released Large Poinsettia Set to fill in the space but I still like how this turned out.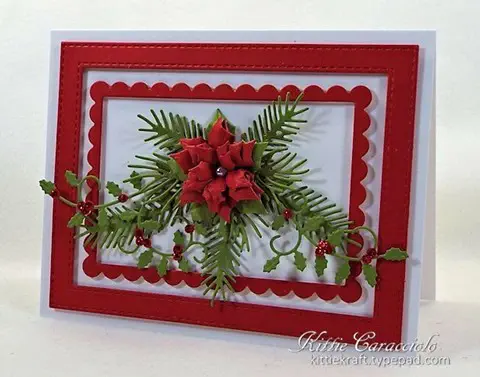 I started by attaching the two frames to the card base using thin strips of mounting tape. I formed the flower petals using my stylus and molding pad and assembling using glossy accents.  I finished the flower using a tiny snow pearl.  I cut a couple holly flourishes and attached 1/8" punched circles with glossy accents in key spots on the vines and then applied red stickles to add sparkle.  I cut several pieces of pine and lightly formed them with my stylus and molding pad.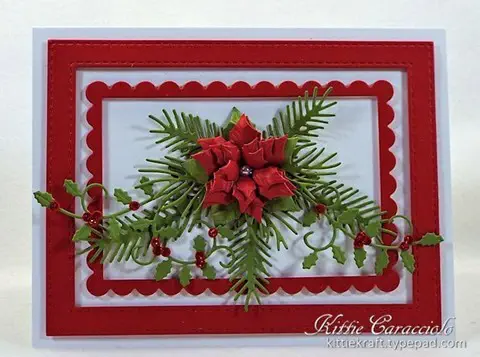 I began the design by attaching a the pine pieces to the card base with glossy accents. I then applied glossy accents to the back of the poinsettia and attached over to the pine.  I then tucked a few pine tips and the holly flourishes under and around the poinsettia and attached with glossy accents. I like the soft flow of the holly branches jutting out over the frames. And of course I love using my favorite holiday card color combination of red, white and green.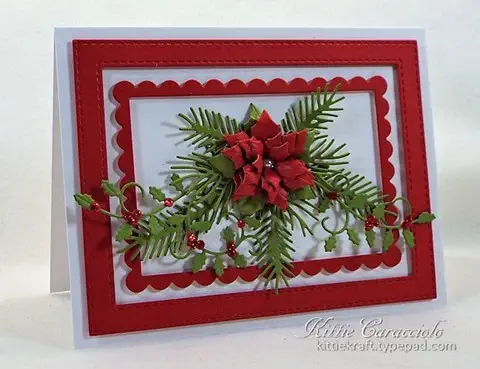 Thanks for stopping by today and I hope you have a wonderful weekend.
Card size:  5.50" x 4.25"