Good Thursday morning and welcome to the Impression Obsession design team "Fall Florals" challenge.  My project today was made using the Twig Wreath and flowers from the Spring Wreath.  For the greenery I used the new Foliage set and I created the twiggy pieces of the wreath by cutting apart the new Tree Row.  Adding the twigs to the wreath seems to give it a more natural appearance and it's always fun to think of different ways to use my dies than the obvious.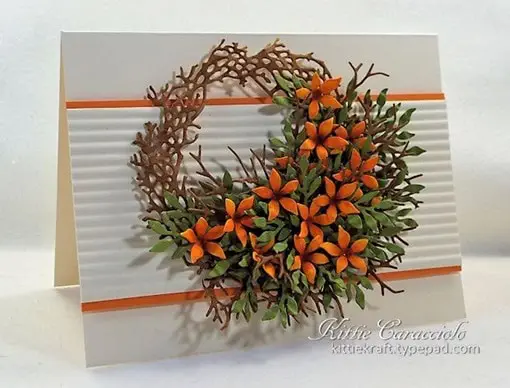 I cut the wreath and tree row using kraft cardstock and lightly applied vintage photo ink to add depth.  I cut the flowers using watercolor paper and the foliage was cut using olive green. I misted the flowers and then applied spiced marmalade ink with a mini applicator to cover and then added vintage photo to the centers with a mini applicator.  I could have used orange cardstock to make the flowers but the watercolor paper and ink made  much more vibrant flowers.  I formed the flowers using my stylus and molding pad.
I arranged the foliage on the wreath and attached with glossy accents.  Next I attached the flowers to the foliage with glossy accents and then tucked the pieces of twigs all around the arrangement.  I was going to add an orange bow to the center but filled it with flowers instead.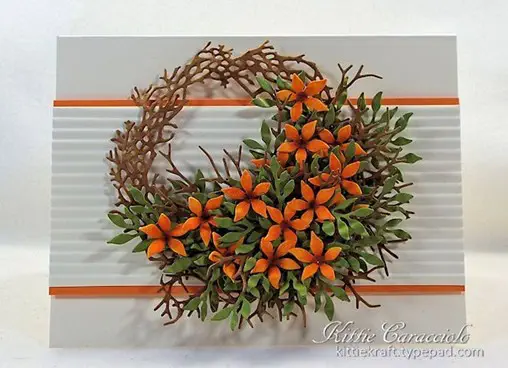 I crimped the background layer of vanilla cardstock and attached it to the orange cardstock with ATG adhesive.  I attached the crimped section to the card base with mounting tape and then attached the wreath with glossy accents. I used vanilla cardstock to allow the bright orange flowers be the main focal point of the card.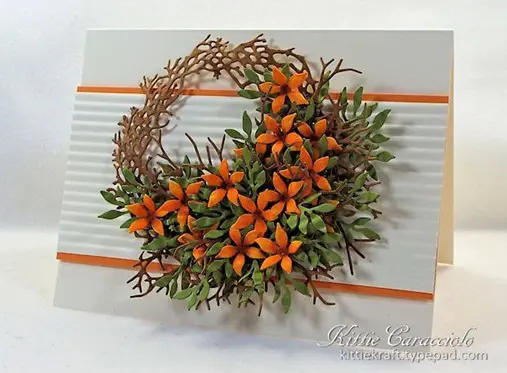 Why don't you come along and play with us. To enter the challenge go to the Impression Obsession Blog (all the details are there!). A random challenge card will be selected to showcase on the IO blog and you can enter to win a $25 gift certificate to IO just by playing! I hope you will go check out what the other IO teams members created for the challenge.
Kittie Caracciolo  (that's me)
Thanks for coming by and I hope you have a great day.
Card Size 5.50 X 4.25"