Good Thursday morning and welcome to the Impression Obsession design team "Feeling Blue" challenge. I started my card for today going in one direction with lots of blue but somehow it turned into more of a "feeling white and blue" project.  This was supposed to have only one layer of snowy landscape with trees and houses but the big blue sky looked so empty.  And I have to admit that lots of times I am a "more is better" kind of designer.  LOL!  Anyway…I love how this simple white silhouette looks against the pale blue sky with the sparkly silver stars.  The addition of the tiny green and red embellishments on the front of the houses adds a sweet touch that also helps distinguish each house since everything is all white. The houses are made from the newly release Town Builder set, Hill Landscape Layers, Fir Tree Border, Sun and Moon, Fir Trees and Fir Sprigs set.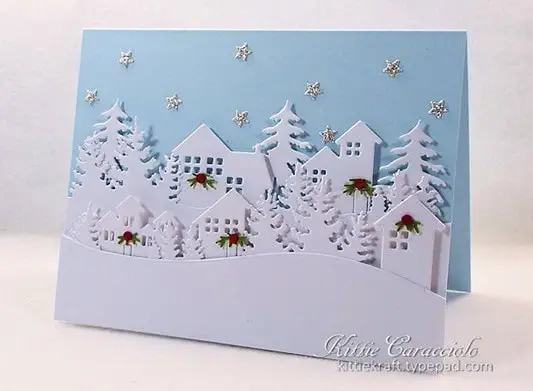 I started by cutting two sections of the Fir tree border.  One full border was used on the back row and and attached directly to the card base with ATG adhesive.  I cut the trees off the second one and attached them to the back of the snowy landscape layer for the front and attached to the card base with mounting tape. I like to mix the trees up to create a more natural looking scene.  I tucked the houses in behind the landscape layers and attached with mounting tape and then filled in with a few of the fir trees from the Fir Tree set.I cut a few fir sprigs, cut the tips of the branches off and attached them along with the tiny red 1/8" punched circles to the front of the houses with glossy accents.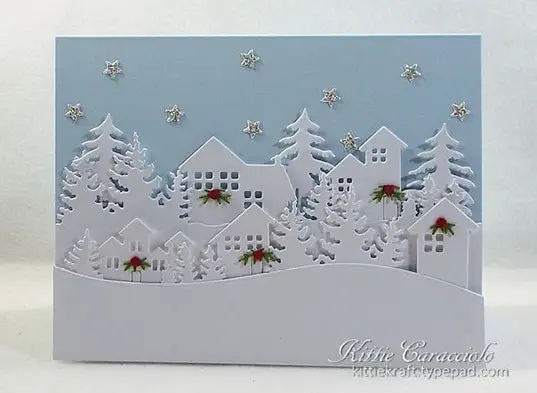 Here's a closer view of the houses and tiny Christmas decorations.  They are a little hard to see on my other photos.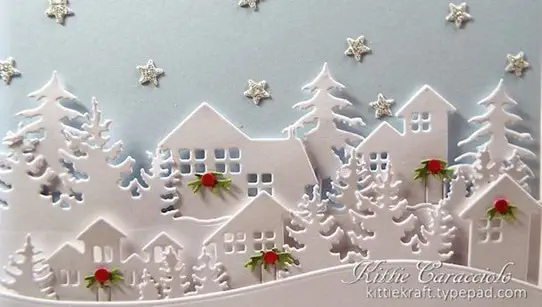 I finished the card by adding several silver glittery stars in the sky.  They look so much prettier in person.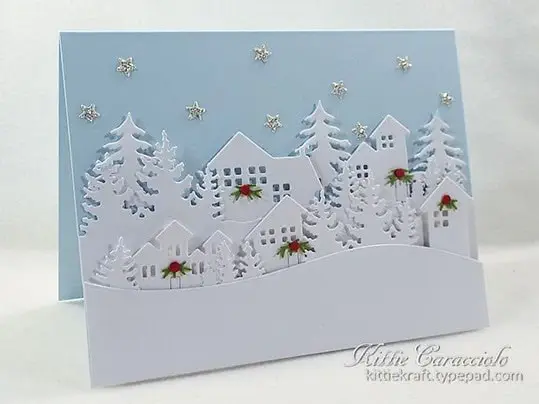 Why don't you come along and play with us. To enter the challenge go to the Impression Obsession Blog (all the details are there!). A random challenge card will be selected to showcase on the IO blog and you can enter to win a $25 gift certificate to IO just by playing! I hope you will go check out what the other IO teams members created for the challenge.
Kittie Caracciolo  (that's me)
Thanks for coming by and I hope you have a great day.
Card Size 5.50 X 4.25"