Good Saturday morning.  I have been looking forward to having enough time to create a project using the new Impression Obsession Large Cabin set. It is no secret that I love making scenes of all kinds but I think snowy holiday cards are my favorite. There are several parts and pieces to the cabin set and I had lots of fun putting them together.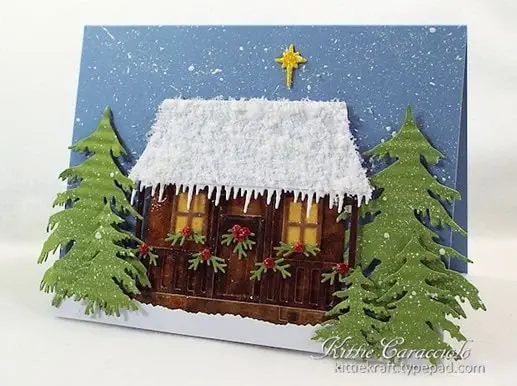 Instead of cutting the cabin pieces using brown cardstock I decided to cut everything in white and color using different shades of distress inks and mini applicators. When I was finished coloring everything looked dull to me so I applied versa and embossed with clear embossing powder.  This added a little more shine than I would really have liked but it really made the colors show well.  The cabin is large but still small enough to use on an A2 card front.  I cut several tree and crimped to add a little dimension.
Before I started assembling the card front I placed the card base and trees in the spatter cubby and added falling snow in the sky background and trees by splattering white gesso on with a toothbrush.  I know to really look uniform I should have spattered the cabin as well but I didn't think the gesso would stick and dry on the embossing.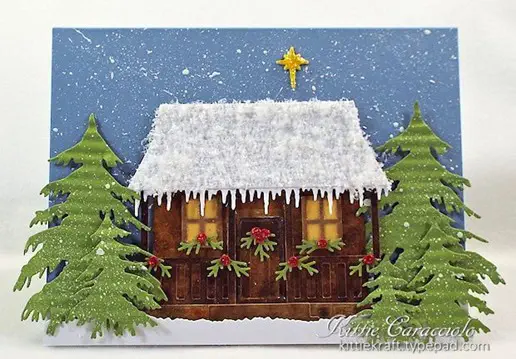 I assembled the cabin pieces using ATG adhesive, glossy accents and some rolled up double stick tape.  Before attaching the roof I tucked a section of the Icicle Edger underneath and I think it adds such a sweet touch to the cabin.  I applied glue to the roof and applied ultra fine white flower soft.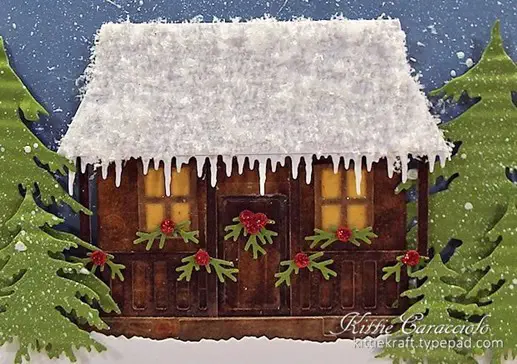 I embellished the porch, windows and door with sprigs of fir and 1/8" punched circles and added red stickles for sparkle.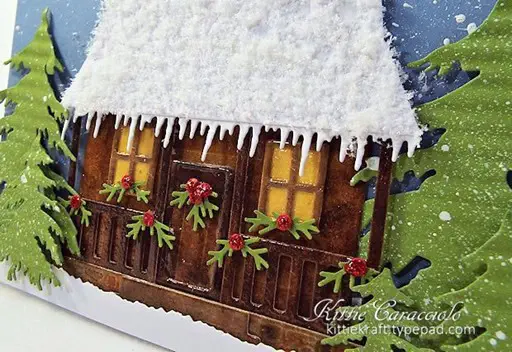 Here's a closer side view of the cabin so you can see the dimension created with the roof and porch banisters.  There is a really cut stone base in front of the porch but it got mostly covered when I added the front snow section.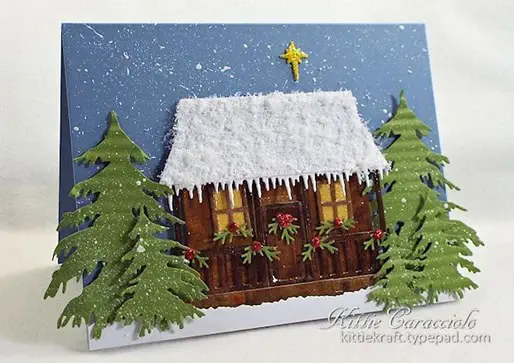 The trees were attached to the scene with mounting tape.  The final touch was adding the star and applying yellow stickles for another touch of sparkle.  I wish I could be celebrating Christmas in that fun setting.
Thanks for coming by today and I hope you have a wonderful weekend.
Card size:  5.50" X 4.25"