Good Monday morning.  I have a snowy cabin scene to share with you today with an added touch of whimsy with the snowflake and tree designer paper in the background. I must admit that I am in love with the Impression Obsession Small Cabin Set.  It lends itself perfectly to my love of creating outdoor snow scenes.  I cut the small trees off of the Tree Landscape Layers to use around the cabin.  They were just the perfect size to work with the cabin and also matched well with the trees in the background. The frame was made using the All-in-One Frames Rectangles 2.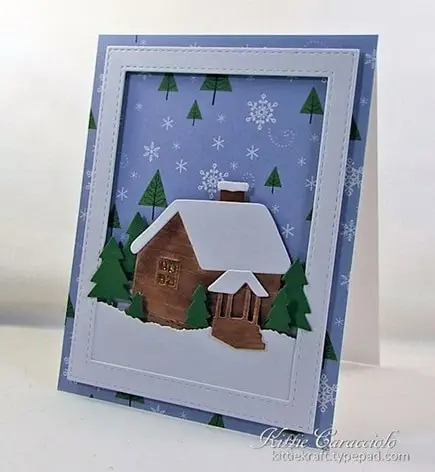 I cut the main portion of the cabin and porch steps using a piece of Essentials by Ellen  Wood Sheet and lightly sponged it with vintage photo ink and a mini applicator to add a little depth of color.  I used white cardstock to cut the snowy roof sections.  I love that the cabin comes with a snow roof and regular wood roof so you can make it for any season. I assembled the sections of the house together using glossy accents. I cut the frame and hand cut two snowy layers using my deckle scissors and attached them directly to the back of the frame.  I applied thin strips of mounting tape to the back of the frame and attached it to the card base. I cut the small trees and removed the ground section so I could tuck them in behind the ground snow layer.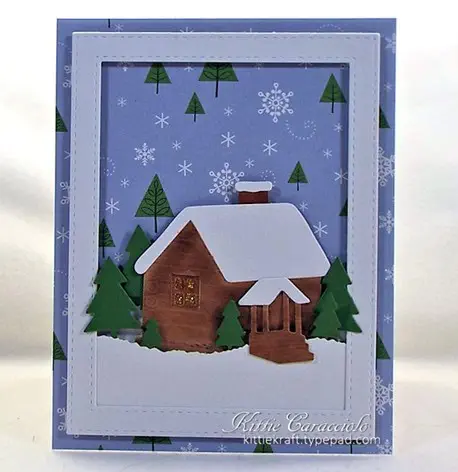 I slipped the cabin base in behind the snow layer and attached in place with mounting tape.I attached the porch section in place with the steps hanging over the snow layer.  I applied small pieces of mounting tape to the back of the trees and attached them in place around the cabin. I love how this cabin scene turned out. It's a fun holiday card or could be used for someone's winter birthday.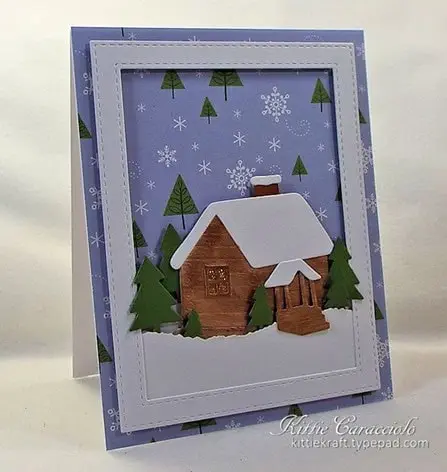 Thanks for coming by today and I hope you have a great week.
Card size:  5.50" x 4.25"