Good Tuesday morning.  I love making nature scenes and especially on my holiday cards. The Impression Obsession Deer Trio are perfectly paired with the Brush Tree Line image in the background and the simple die cut sentiment made using the Holiday Bottom Word Edgers.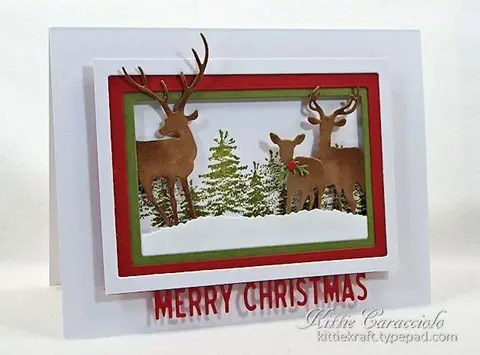 I started by cutting the deer using Kraft cardstock and applying brown ink with a mini applicator.  I applied green ink to the tree stamp, misted it lightly with water and stamped it on white cardstock. The frames were cut and attached together with double stick tape.  The snow ground piece and sentiment border was attached to the back of the frame with double stick tape.  Thin strips of mounting tape were applied to the back of the frames and then it was attached over the scene.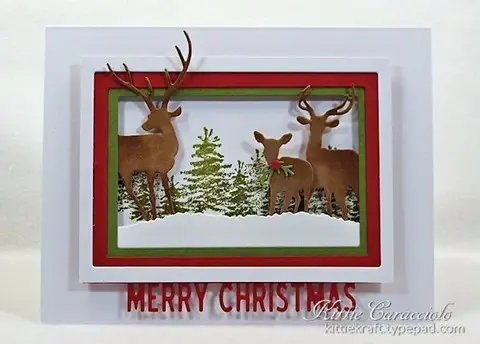 I attached a little bit of fir sprig and a red 1/8" punched circle to the neck of the baby deer with glossy accents.  I cut the back sections of both the larger deer off so they would appear to be coming from inside the framed scene and attached them both with mounting tape. The baby deer was attached with double layers of mounting tape.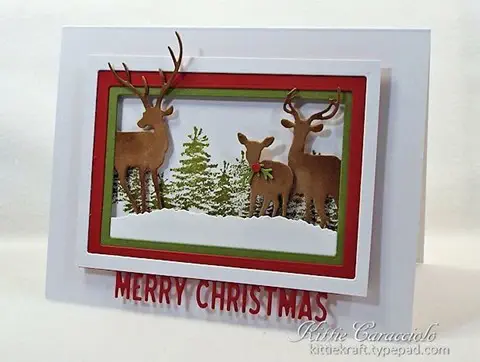 Thanks for stopping by and I hope you have a good day. 
Card size:  5.50" x 4.25"