Good Sunday morning.  It hardly seems possible to me that Thanksgiving is almost here and Christmas is right around the corner.  I need to get busy if I want to get my holiday cards ready to send out to family and friends.  My project today is a fast, easy, clean and simple card that would be easy to make several at one time.  I have to make at least one card each year with some kind of vehicle with a Christmas tree loaded on top.  The Impression Obsession Woody is old-fashioned and seemed perfectly paired with the largest of the trees from the Evergreen Trees set.  The sentiment is the from the new Impression Obsession Merry Christmas set and the  tag was made using the Poppystamps Pinpoint Main Tree Tags set.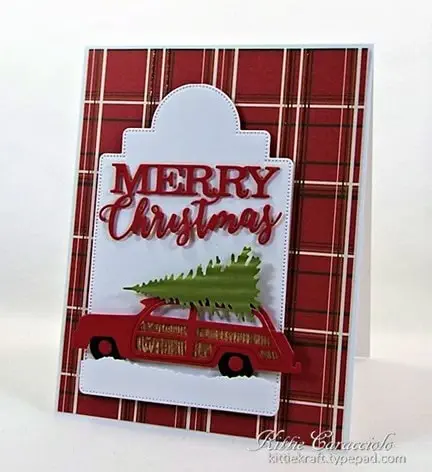 I cut and assembled the Woody using red, black and woodgrain embossed cardstock. I ran the tree through my crimper to add a little dimension and attached it to the top of the car with glossy accents.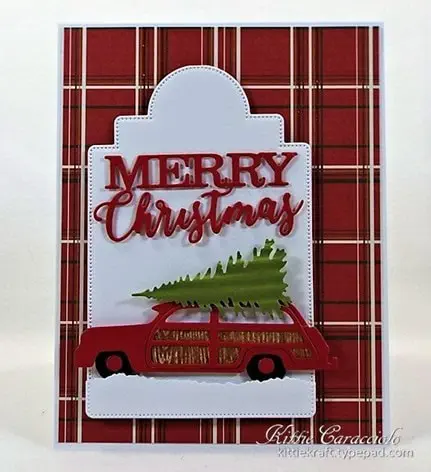 I cut the tag once and then cut just the bottom portion again to use for ground snow.  I cut the top edge off the ground piece with deckle scissors and attached it to the tag with mounting tape. I tucked the tires of the car in behind the snowy ground piece and attached it to the tag with mounting tape.  I used rolled up double stick tape to attach the sentiment to the tag.  It is a little time consuming but I think just that little touch of height to the words makes a better showing than just being attached flat.  The completed tag was attached to the card base with mounting tape.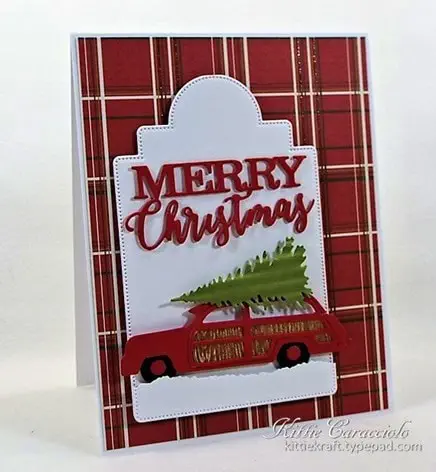 Thanks for coming by today and I hope you have a restful and relaxing Sunday.
Card size:  5.50" x 4.25"