Good Saturday morning. I have another white on white snowy nature scene with birds and birdhouse to share with you today.  I couldn't resist adding lots of Flower Soft to soften the scene.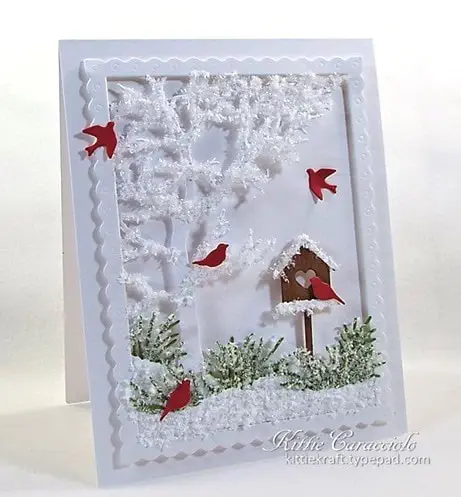 I cut the tree frame and attached two layers of ground snow to the back.  Next I attached the Tree Frame to the back of the frame with double stick tape, attached thin strips of mounting tape and then attached it to the card base. I applied Cosmic Shimmer glitter glue to the tree branches and then sprinkled on white flower soft.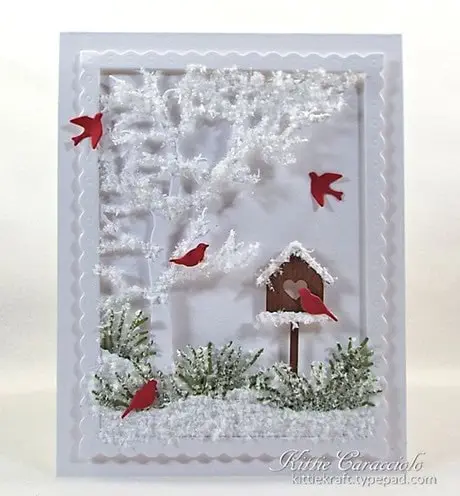 I cut the birdhouse once with Kraft cardstock and once with white cardstock.  I applied vintage photo ink to the house and post and heat dried. Next I cut the roof section off of the white birdhouse and attached it to the birdhouse with glossy accents.  I cut a strip of white cardstock and attached to the base of the birdhouse.  I finished the house by applying glitter glue to the roof and birdhouse base and sprinkled with flower soft.  I applied a double layer of mounting tape to the back of the birdhouse and attached it the card base. I tucked pine sprigs in behind the snow layers with glossy accents, applied glitter glue to the pine and snowy ground sections and sprinkled with flower soft. The red birds were added for the finishing touch.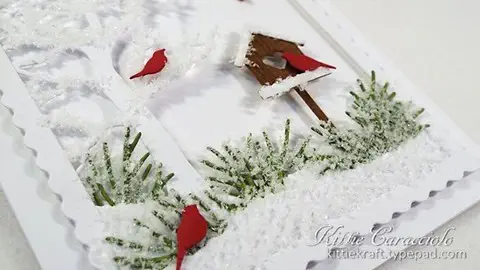 Here's a closer view of the snowy flower soft pine sprigs and birdhouse.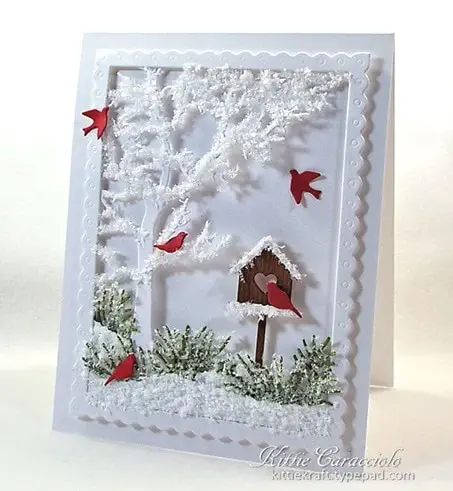 Thanks for coming by today and I hope you enjoy your weekend.
Card size:  5.50" x 4.25"