Good Monday morning.  I have a white on white winter nature scene to share with you today.  I love making cards with an all white background with touches of color added.  The white seems to make the colors pop.  I used the Impression Obsession Forest die, Cardinals set, Pine Sprigs and the frame was made using the All-in One Frames Rectangles 2.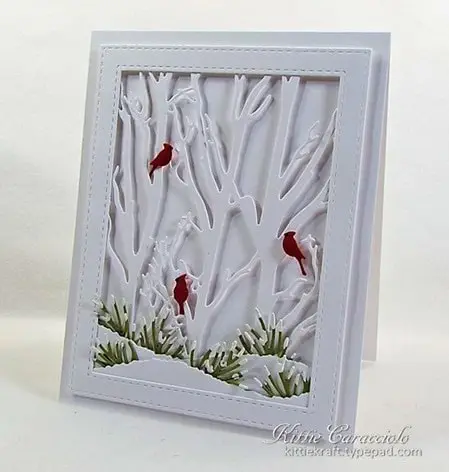 I hand cut two sections of ground snow with deckle scissors and attached them to the back of the frame using double stick tape. I applied double stick tape all the way around the back of the frame and then attached the forest section in place. I added thin strips of mounting tape to the back of the frame and attached it to the card base.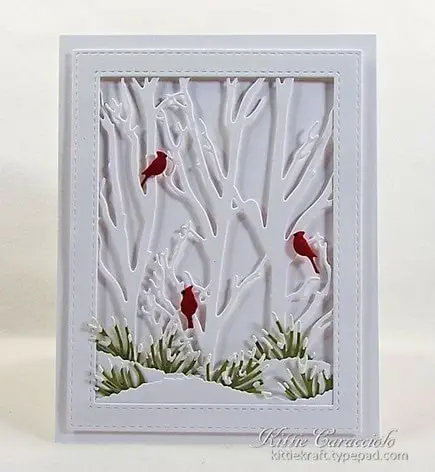 I attached the cardinals in the trees using rolled up glue dots. I tucked several pieces of pine sprigs in between the snow layers and attached them with glossy accents. I used a tiny brush to apply snowy tips on the pine sprigs using white gesso.  It amazes how just a few small colorful pieces show up so beautifully against the white. They bring the scene to life.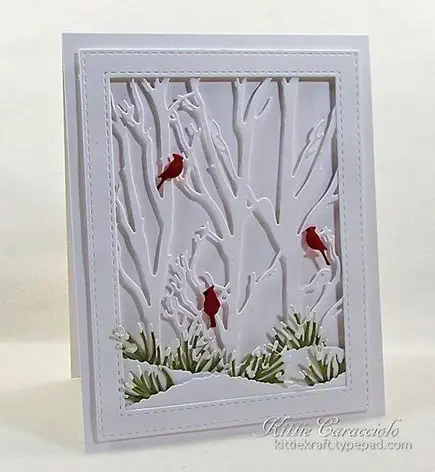 Thanks for coming by today and I hope you have a great week.
Card size:  5.50" x 4.25"