Good Monday  morning.  Before I start talking about my project I just want to remind you to check out my Ellen Hutson's Things We Love 2015 post and leave a comment for a chance to win a wonderful giveaway prize.  You can also use my exclusive discount code thingswelovekittie  between now and December 14th to receive a discount on all in stock items in Ellen's store.
I love making Christmas house scenes and the Town Builder set pairs perfectly with the Tree Landscape Layers set.  A weeks ago I created a similar scene but did it in all white against a blue background..  This time I couldn't resist using all red houses and bright green trees to match the designer paper background.
I started by cutting and crimping the snow layers with my wave crimper. The top three layers were attached directly to the card base using ATG adhesive.  The adhesive was applied to the bottom of each layer with the top portions being left free so I could place the houses and trees behind them. The bottom layer was attached with a strip of mounting tape.  The houses were cut in red and then again in white.  I cut the roof portions off the white houses and attached them to the red roof tops with glossy accents. It's a little hard to see but I added tiny little pieces of green fir branches and a red 1/8" circle to the front of each house for one more touch of Christmas. The tree were cut and crimped.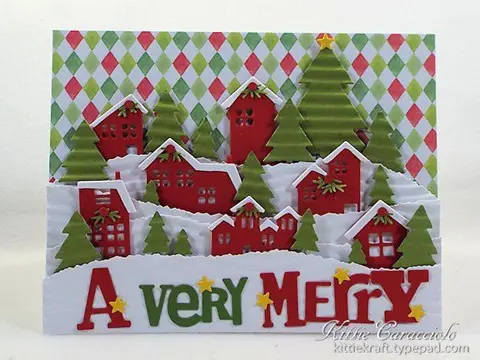 I tucked the houses in behind the snow layers and attached with strips of mounting tape. The tree were cut, crimped and arranged around the houses and attached with mounting tape.  I had the Very Merry sentiment sitting on my desk leftover from another project and thought it would look cute on the first snow layer.  The letters were attached with 1/8" double stick tape. I cut several stars from the Sun and Moon set and attached them around the sentiment  and to the top of the tallest tree with glossy accents.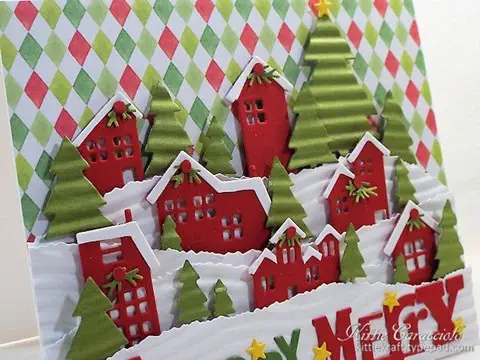 Here's a closer side view to show the dimension of the scene.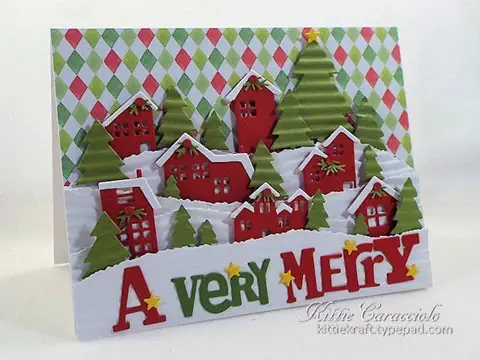 Thanks for stopping by today and I hope you have a wonderful week
Card size:  5.50" x 4.25"