Good Thursday morning and welcome to the Impression Obsession"Snowy Wishes" design team challenge.  I don't play with stamps like I used to but I just couldn't resist Dina's gorgeous Snow Flourish set.  I looked at the large flourish and pictured it stamped and embossed in white on a dark blue background.  I wanted the image to be the main focus so I kept my project clean and simple.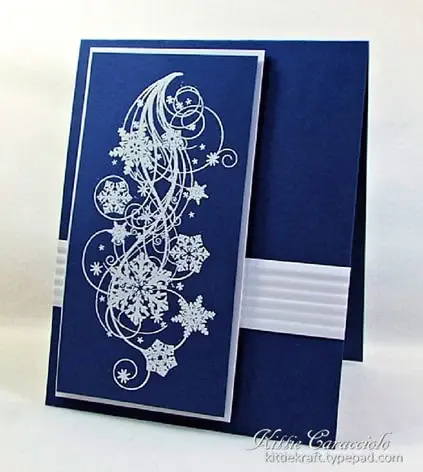 I applied embossing magic to the blue cardstock so the white powder wouldn't stick where I didn't want it.  I stamped the image with white pigment ink on Bazzill Whirlypop cardstock and embossed with white embossing powder. I attached a white layer behind the snow flourish with ATG adhesive.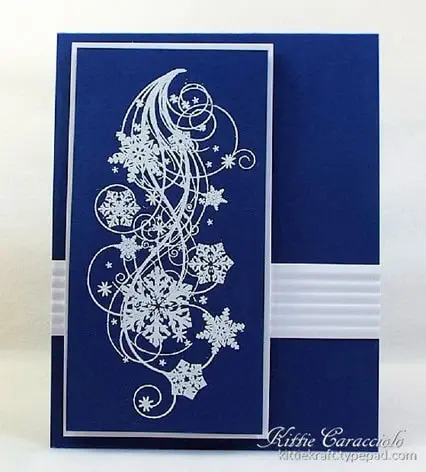 I cut a white strip of cardstock about an inch wide , ran it through my crimper to add a little dimension and attached it to the card base with ATG adhesive. I wanted to have a bit of white relief against all that blue.  I attached strips of mounting tape to the back of the snow flourish layer and attached it to the card base.  It doesn't get much faster or clean and simple than this but I love how it turned out.  With all the die cut Christmas cards I have made this season my husband told me this was his favorite card of all.  I love Dina's beautiful snowflakes.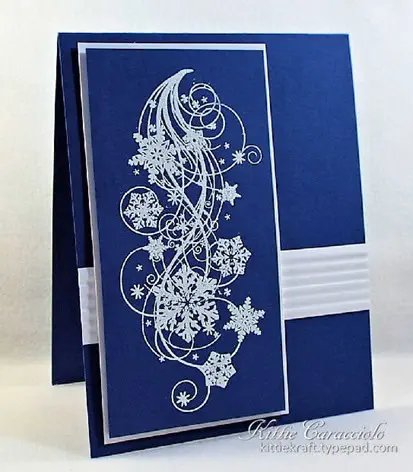 Why don't you come along and play with us. To enter the challenge go to the Impression Obsession Blog (all the details are there!). A random challenge card will be selected to showcase on the IO blog and you can enter to win a $25 gift certificate to IO just by playing! I hope you will go check out what the other IO teams members created for the challenge.
Kittie Caracciolo  (that's me)
Thanks for coming by and I hope you have a great day.
Card Size 5.50 X 4.25"